Chapter XX
After a time, the penthouse in New York seemed to have served its purpose. Oona had been able to visit her therapist in New Jersey and have a life separate from the one in Vevey. Now, she was ready to return permanently to Switzerland, and after Anna had gone, the penthouse was put on the market. I had a call from Mr. Jacoby, the family attorney, who told me Oona wanted any of the family who would like to go to New York and take away furnishings or other things they might enjoy. Most of Shane's children and some of my family said they would be grateful to share in whatever was there.
However, I told Mr. Jacoby I did not like the idea of dividing up Oona's belongings; it was as though Oona had died. I seemed to be alone in this discomfort, but most of the family were delighted, and everyone had a good time choosing various pieces of furniture and stereo systems or such. I ended up taking a wonderful gold colored, over-stuffed chair. Trucks came and the truckers packed up the pieces to ship north and west to the various families. Finally it was over and everyone went home, grateful in being able to share lovely remembrances from cousin Oona.
My writing for the family to thank Oona took away some of the dismal feeling about it all. Writing to her told me she was still "there."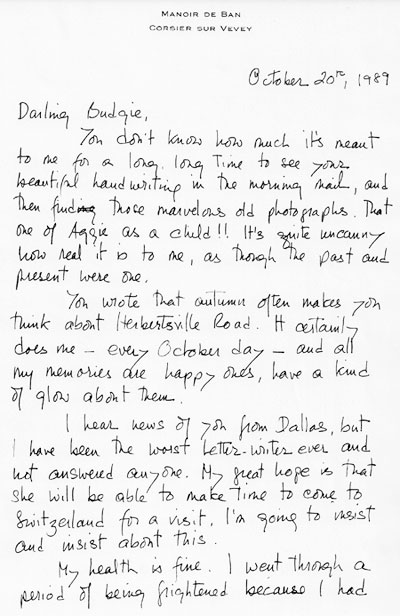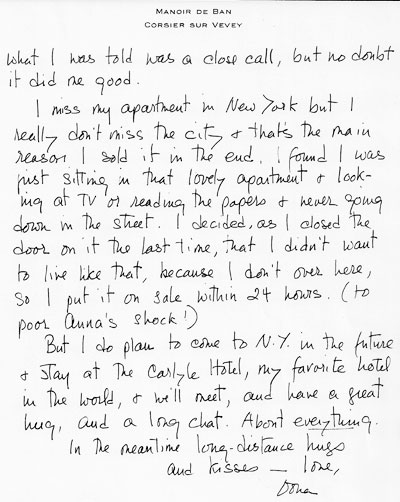 Letter from Oona to Budgie about selling NY penthouse, October 20, 1989.
The last time I saw Oona was shortly before she died. I wondered after a time if she somehow knew she would die soon. So often she had asked me when I might go over to Switzerland to see her, but it was not a trip I could easily afford. She sent me two first class tickets to visit her.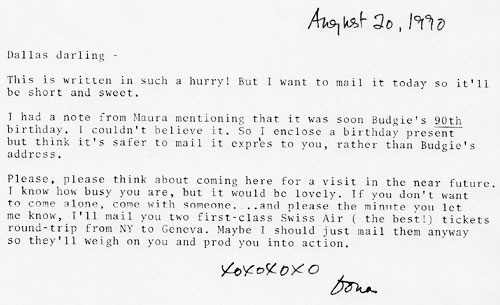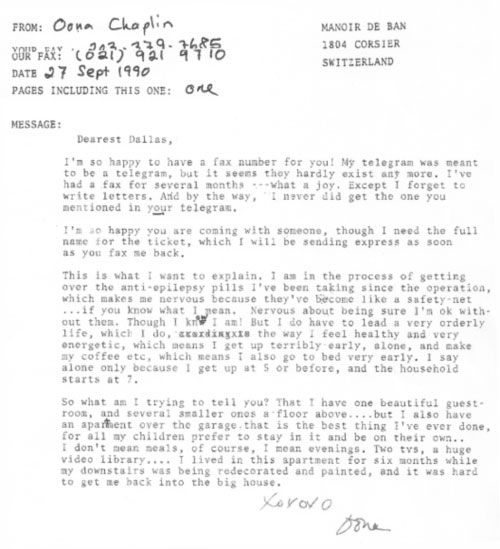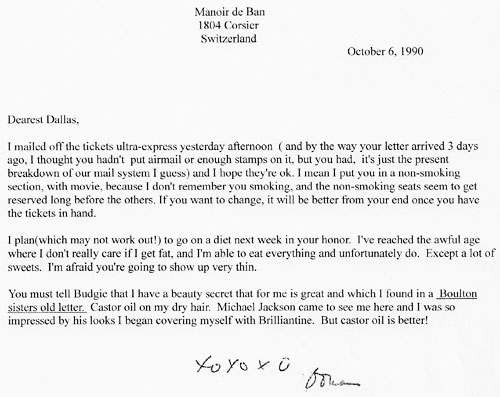 Three letters from Oona to Dallas about trip to Switzerland, 1990.
The second ticket was for anyone I might want to take along. I wondered about this but then decided it was a good idea and asked a friend to go with me. Perhaps I had an idea of what was coming. I would have preferred taking one of my daughters, but couldn't play favorites.
At the large airport in Geneva I was to look for someone holding a card with my name on it and saw Mario, the chauffeur, holding a large placard over his head. We were able to communicate only in sign language because he spoke French and Italian. My friend and I had been Spanish students.
We arrived at the Manoir and were invited into the large, gracious living room to wait until Oona came down to see us. She arrived barefooted and in a bathrobe, with her hair wrapped in a towel. It was an affectionate meeting but we didn't sit down. Oona asked Mario to take us across to the carriage house where we would be staying. That was the only time I saw her during the entire seven day visit. We talked on the phone a time or two, and her son Eugene came over to visit and apologize, and explained his mother was ill. I wanted so much to see her, but it seemed best to wait and see if Oona were well enough to have a visit with us before we left. It didn't happen. It felt quite strange to me but I realized that I needed to make the most of this trip to the beautiful country of Switzerland and enjoy whatever time we spent there.
Eugene, named for his grandfather, lived across the road with his large family. It was the first time I had met him and I was taken with his kindness and somewhat shy, gentle manner. Oona and Charlie had raised some very remarkable children.
Mario and I had quite an enjoyable time communicating with our hands, laughing a lot. He was so very kind as he brought our meals over to the apartment, helped me with driving the car, and gave us instructions on where to find interesting places to visit. We played tourist at times, seeing as much as possible of the surrounding area with its sparkling lakes, white capped mountains in the distance, ancient castles here and there, and thriving vineyards crawling up the roadsides. I wished Oona had been showing us this amazing country. Some days we walked the grounds of the Manoir with its elegant rose gardens and the miniature ponies following along like frisky puppies, nipping at us when they wanted attention.
The days passed somewhat slowly and finally I realized I wouldn't see Oona, even to say goodbye. I wondered why she had wanted me to be there. I was aware drinking might be part of her illness, but all the same I felt hurt. Some of her letters to Budgie, which I found later on, explained it in a little more detail and I realized she had been quite ill. It was a strange time and I went home in despair...as though I had stepped in and out of a distressing darkness, something I might never understand. I did not know I was never to see her again.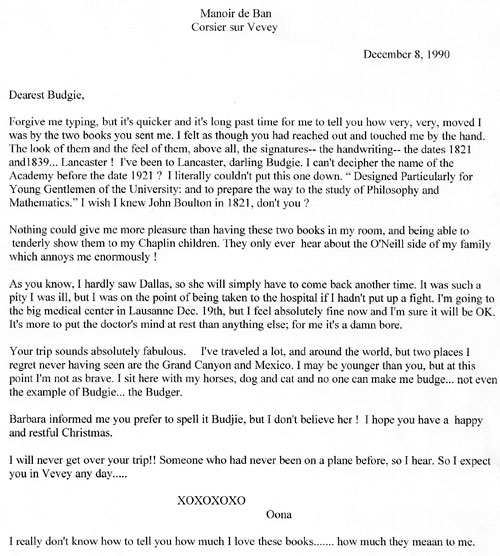 Oona's last letter to Budgie.*
On September 27, 1991 I received a call from the family in Vevey. Oona had died from pancreatic cancer. She was only sixty-six years old. Her nurse and her daughter Victoria, with whom I talked later on, had been at her bedside. My heart broke as I took in all this sadness. There was so much left unsaid and undone. Oona and I would no longer be able to connect and continue the closeness we had known as children and as devoted cousins in our early twenties.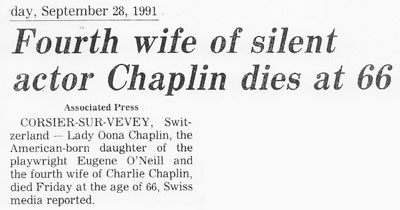 News clipping on death of Lady Oona Chaplin.
It seemed Oona never talked to her children about any of her extended family, aunts and uncles and cousins who lived in the United States. Happily, I had met several of them when visiting in Bermuda and Switzerland. After Oona's death, Budgie received a letter from young Michael Chaplin. He had found two books by her bed, one by Krishnamurti, the other by Thic Nhat Hanh, both inscribed inside with "Love from Budgie."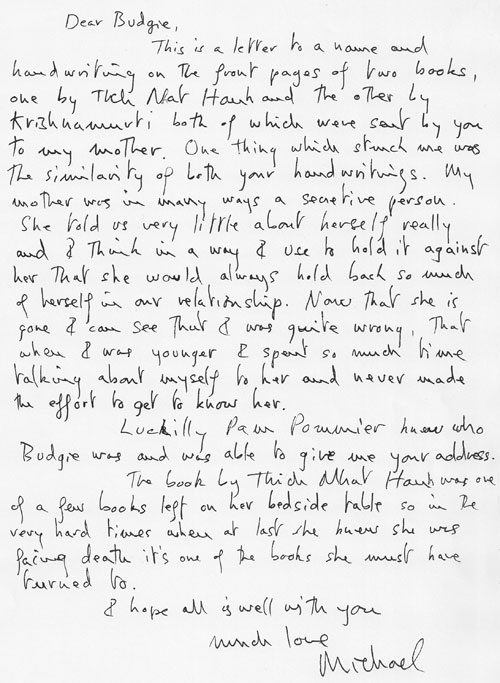 Letter from Michael Chaplin to Budgie after his mother's death.
Oona had adored her Aunt Budgie, and so it seemed strange that she kept Budgie a secret from her children. There are numerous letters left behind that show the warm and delightful correspondence between them. Perhaps secrets were the only positive way she could deal with all the distresses she carried as reminders of her life as a child of the O'Neills. It was quite amazing that with the intense feelings of anger and abandonment which she must have suffered, Oona was able to surmount them with an impressive ability to create a beautiful strong personality and to make a good world for herself, while deep down she must have been filled with hurt and sadness. A major factor in her emotional survival was most certainly Charlie's constant caring, his love and support of Oona for all the time they were together.
Intense sorrow overwhelmed me as I reminisced and mourned my beautiful, mystical cousin. For over sixty years we had touched each other's lives. Now she was gone. I only wish she had been able to share some of her secret hurts with me and perhaps lightened the heavy load of a past which had haunted her for so much of her life. I am most grateful that Oona was a part of my life, and we were each a part of the fascinating tapestry woven with threads of both the O'Neill and Boulton families.
*Oona sent Budgie a large check for her 90th birthday, and Budgie chose to use it to go to Grand Canyon and New Mexico. She had always been frightened of flying, but that was the time . . . she loved it! Dallas went with her to "carry her luggage." It was a dream Budgie had all her life.

Chapter XXI