Chapter VII
The World War ended and an armistice was signed. Soldiers were returning in large numbers and people were singing in the streets. Broadway song hits like "Here's To the Two of You" and "Yours is My Heart Alone" expressed the joyous mood of the city.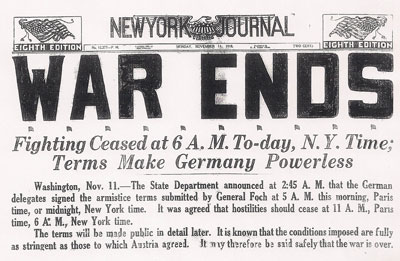 New York Journal, November 11, 1918.
It was an emotional time for all in this small Boulton-O'Neill world. Margery, who had been frantically clipping newspapers relating to war incidents, and worrying about Ken coming home, was greatly relieved with his return on the Leviathan where he had served active duty in the Navy. Cecil and little Barbara moved down to New Jersey to be with the rest of the family.
Cecil was happy to be in her own kingdom once more. She fussed when she heard of Ken's proposal to Margery, "You are too young to be thinking of marriage. You would be better off going to New York and finding a good position of some kind." But Margery was not one to be told what to do.
Before long there was a frantic letter from Agnes. She and Gene were in New York and had left Provincetown for the winter. She had told him about little Barbara, and also that she owned The Old House in Jersey. She neglected to say the family was living there, but from the way Agnes had described the place, surrounded with large fir trees and woods, Gene decided it would be a nice quiet retreat for the winter's writing. He was working on The Straw.
"Oh, my Lord!" I could imagine Margery's distress when she heard Gene and Aggie might be moving into The Old House. "What are we going to do? We can't all go to Dawn Hill...and there's nowhere to go in a hurry."
No one seemed to think perhaps Aggie and Gene might make other plans. Margery often talked of Teddy's calm and related his solution to the family. "We'll rent the little house down by the water. The Schneiders told me it is still empty, so we can clean up here and move in there. We'll all help Mother and no one will know the difference."
Margery might have mumbled about the family always cow-towing to Agnes and not understanding how they could be so concerned about her and not consider there were five other people being very inconvenienced. The younger sisters, she had told me, felt that Aggie was the queen and Eugene O'Neill was the king. Amazing how "fame and importance" could control a whole family. Margery said she had realized she also fell into this at times and related, though they all felt angry, they would help to clean up the place for the O'Neills.
I can imagine Cecil's dismay, but remaining calm in her understanding way. Aggie needed help. Knowing my grandmother Cecil, she might have sent off a hasty note saying " It's fine!" and then ordered her little troops to "MOVE!"
Margery, telling us the story, explained how they were able to stuff all their belongings into a closet room at the top of the stairs, with other odds and ends into the attic. They knew Aggie and Gene would be there in three days. Clean sheets on the bed and some groceries in the cupboard were last minute details, taken care of as they all raced about making the move. Teddy, who wasn't taking the move very seriously, had arranged to rent the cottage by the shore. Trixie the dog and the cats would have to stay at The Old House.
When Gene and Agnes came in from New York, Gene wondered how the animals had managed to survive with no one at home. Aggie had changed the subject.
Teddy worked at the hardware store in town that winter, to help pay the $10 a month rent on the little cottage by the ocean. His parents and sister had family money but he was determined to prove to them that an artist could raise a family and survive. He did not want to accept help from the relatives in Philadelphia or his sisters in Riverton, New Jersey. His children often dropped by the store to see him. Young Cecil, living in New York, sometimes took a train down to Point Pleasant to visit the family for the weekend. Margery told us how Aggie showed up one afternoon when Cis was there.
Aggie had sneaked down to say hello and say that they were all settled in. The story went that she hadn't told Gene about Cecil and Ted living in The Old House. She knew he would be terribly upset at their feeling they had to move out, and she asked the family to keep it quiet for awhile.
They had all agreed not to say a word, and Aggie, according to the story, explained further, "He can't have visitors when he's so busy working…and he doesn't know you're here in town. If Granny finds out we are here, she'll be up in a minute to meet Gene!"
Secrets were a way of life for the family and no one seemed concerned. Aggie had laughed when she described Gene's questions as to all the cats and Trixie. He wanted to know how a family of cats and a dog could be living there with nobody to feed them when they all looked so healthy. Who was caring for them? He was also beginning to think Aggie had a boyfriend because she was sneaking down to the hardware store so often. Before she raced home that day, she had asked Teddy to send Cookie a kiss from her mother, explaining that she couldn't see her quite yet.
Another time, Margery told us, Agnes visited Teddy at the store and described how disturbed Gene had become with the creaky old windmill that brought water into the house. Teddy's reply was, "Well, he can stop it and be without water...or he can keep it cranking and write a poem about it!"
Gene wrote a poem, but not about the windmill. Agnes believed he wrote it in a melancholy moment when he was upset with her. This old poem, on a piece of very fragile paper, stayed with the family…until ninety years later when it was sent to Dr. Harley Hammerman, in St. Louis, Missouri, for a part of his O'Neill collection. Dr. Hammerman had it researched and claims it was originally written when O'Neill was in South America.
"The Bridegroom Weeps"
by Eugene O'Neill.

Compliments of The Hammerman Collection.
The winter passed and Gene decided it was best to move back to Provincetown. They had survived the cold winter with several old coal stoves, which needed to be filled and emptied day after day, plus cats and a dog, which needed to be fed constantly.
Just before leaving, Agnes discovered she was pregnant. How could she tell Gene, who had told her so often how happy he was with just the two of them? He didn't want any children. She had abandoned little Barbara to her grandmother because she knew the relationship would fall apart if she brought a child into the picture. She had told Gene about Barbara Cookie, explaining that she felt her little girl was better off with her grandmother than coming into a new household with her mother working and a step-father she didn't know.
Four months into their marriage Gene had confided to Agnes about his first marriage to Kathleen Jenkins ten years earlier, and that he had a son born a year later…a son he knew nothing about. Gene had left his bride to go off on a ship to Buenos Aires. He did not know until he returned that he had a son, Eugene Gladstone O'Neill, Jr., born on May 5, 1910. The short marriage ended in a divorce in 1913. Gene saw his little son just once, held him for a moment, then left to go off to the park where, we were told he sat and wept.
Agnes was trying to find a comfortable way to tell Gene about the baby, terrified he might leave her, and then she would have two children with no fathers. Finally she gathered the courage to break the news and Gene's reaction was not as bad as she had imagined it might be. He seemed stunned at first, but then decided it wouldn't be too bad. It might even become a sharing experience for the two of them.
On the way to Provincetown, Gene and Agnes stopped in New York to meet with the older O'Neills, James and Ella, who were spending the winter in a city apartment. The meeting was warm and comfortable, and the elder O'Neills were impressed with how hard their son was working and his many successes in the theater. They liked Agnes, and her pregnancy was a great delight to them both. James decided to surprise the young family with a gift of the house at Peaked Hill Bars. He knew Mabel Dodge and Sam Lewisohn were selling the place, as Gene had often talked about it and described the Provincetown house by the shore many times. Gene never believed this really could ever be their home. It had been a dream, but now a dream that was to come true for the young family.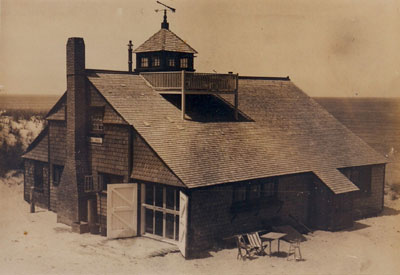 Peaked Hill Bars: Old Coast Guard Station, Provincetown, Cape Cod, 1920.
Courtesy of M. Boulton collection.
Gene and Agnes by coastguard poles, 1920. Courtesy of M. Boulton collection.
Moving into Peaked Hill Bars was an adventure. The place was handsomely furnished and left as Mabel Dodge had arranged it. (Margery often described the yellow and blue curtains and cushions and how appropriate they were in a house by the sea.) For Gene and pregnant Agnes, carrying groceries and their belongings was a long trek across the dunes and difficult to reach from town, but they were so pleased with the place it didn't seem a chore. Solitude offered Gene the quiet time he needed to finish work on The Straw, and to prepare for The Provincetown Player's production of The Dreamy Kid on October 31.
Agnes talked with Gene about the move back to Ridgefield at the end of the summer, wondering how she would take care of two little ones. She wrote a letter to Margery about going staying with them in the fall to help with the new baby. Agnes knew there would be a lot to do after the birth of this little child she carried. They expected the baby to arrive sometime at the end of October. Two productions in the offing!
The letter from Agnes to Budgie came in the mail. Aggie mentioned two checks that she had mailed to Nanna on account for Cookie's board, and explained about school clothes for her. She wanted Nanna to hire someone to go over Barbara's clothes and do whatever mending was necessary. She also wanted to ask Budgie about coming to stay with them for the winter and taking care of baby Shane, as well as doing some typing for Gene. She said they would pay her fare over and back to Bermuda when they went in December and where Budgie could take Shane to the bus and pick him up instead of taking full care of him. She and Gene had talked it over and he thought it would work out very well.
Margery and young Cecil traveled up to Provincetown to be with Agnes. One of Margery's stories of that summer was of Gene taking his swim at the same time every day. There was a small brown seal who swam beside him for much of the way each time. She also told about Gene having his own space and workplace away from the house with no one allowed nearby. Everyone needed to be very quiet, with the household run on his schedule.
Beach Days at Provincetown, circa 1919-1920.
Photos by Margery Boulton, Agnes Boulton and friend.
| | |
| --- | --- |
| | O'Neill with Agnes' sister Margery Boulton at Peaked Hill Bars, 1920. |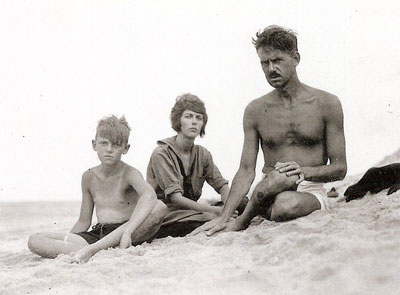 Margery called this "The Jolly Three" - Eugene Jr., Margery Boulton and O'Neill.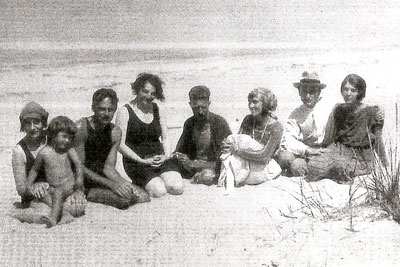 Margery Williams Bianco, Shane and Gene O'Neill, Edith Shay, Frank Shay, Agnes O'Neill, Francesco Bianco and Margery Boulton.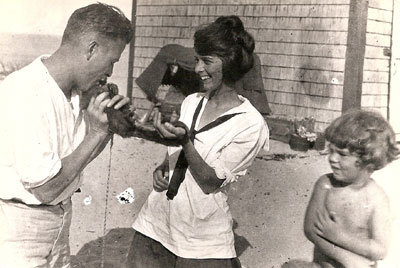 Margery Boulton and little Shane with friend and monkey.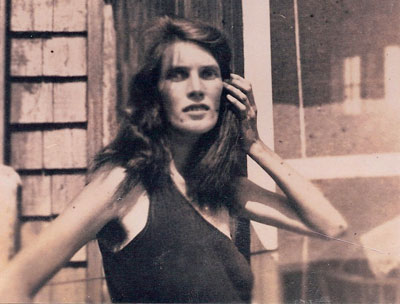 Agnes Boulton O'Neill.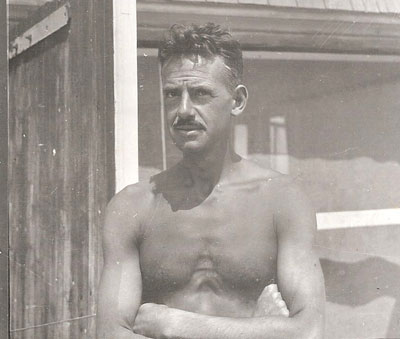 Gene O'Neill.
Eugene Jr., Agnes and Gene together and not so together.
| | |
| --- | --- |
| | Gene and Margery. |
| | |
| --- | --- |
| | |
| Gene wearing seaweed with a SMILE. | Agnes on beach. |
Agnes is scull.

Shane, Budgie (Margery) and Gene Jr.

Shane in sand.
Agnes kept this schedule running smoothly, and she and Gene enjoyed the young sisters on their short visits. The summer was generally pleasant and productive, but there were moments when Gene would go on a tirade about Prohibition going into effect. An 18th amendment declared the use of liquor to be illegal in the United States. O'Neill truly regretted its passage. Fourteen years later in 1933, the amendment was repealed.
After Cis and Margery had returned to New York and Jersey, Aggie asked her mother to come up to Provincetown. She was going to move into town and be closer to people when it came time for the baby to be born. They stayed for a short time with friend Stella Ballentine. Mother Cecil and Agnes enjoyed this adventure as they walked over to the new in-town cottage called Happy Home. They planned how the rooms might be prepared for life with the new baby. Gene came up almost every day from Peaked Hill, and finally closed up the house in the dunes to stay in Provincetown. They would wait for the baby's birth in the cold months to follow, and Mother Cecil returned to New Jersey.
This period and the birth of Shane are beautifully described by Agnes at the end of her book Part of a Long Story published by Doubleday. She took a walk alone in the early part of the evening when Shane was to be born. Her very touching words were a description of this strange and meaningful night.
"That night in late October there was a phenomenon so unusual that people stood in silent groups in the street, wondering and unbelieving. Great spears of light rose from the horizon and met and crossed and touched in the high obscure depths of heaven…the northern lights astounded and mystified Provincetown with a display that I have never seen equaled before or since." — from Part of a Long Story by Agnes Boulton O'Neill
It was November 10, 1919, when Agnes wrote a letter from Happy Home at the Cape to her family in Point Pleasant. She announced: "Gene and I have a baby boy! He's huge…ten and a half pounds...and quite vocal. He was born on October 30, and we named him Shane Rudraighe O'Neill." Aggie described Gene as "quite taken with the little one...until he cries." The doctor was checking them regularly and they were both doing fine. She closed by saying Gene had not gone to the city for the opening of The Dreamy Kid as he had planned, but was there when Shane arrived, and they decided Shane was their "dreamy kid." The play opened the next day!
Agnes at the Cape with new baby Shane, 1919.
A letter from Margery to Aggie followed.
Dear Aggie,

Received your letter with the good news! So happy to hear about Shane. He was a big boy! Glad everything went well...we all want to see him!

Did I tell you I broke off my engagement to Ken? Ma was relieved, but I'm seeing someone from Waterbury, Connecticut, and I am learning how to ride a motorcycle… it's great fun! Give that little boy a kiss on the end of his nose from his AUNT Budgie. Tell Gene "hello," and love to all three of you,

… from Budgie

Chapter VIII