Due to urban renewal in the 1960s, Bradley Street no longer exists, but during O'Neill's day it hummed with activity. At the turn of the last century traveling salesmen reported that New London had "the liveliest, most wide-open red-light district between New York and Boston" (Sheaffer, SP, 59). Bradley Street was the district's hub, even though the New London Police Headquarters was located here.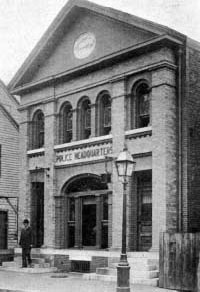 New London Police Headquarters on
Bradley Street, c. 1880
Jamie O'Neill introduced his younger brother to the neighborhood's bars and brothels. Addie Burns's place at 41 Bradley Street was a particular favorite with the O'Neill boys and she was immortalized in Long Day's Journey into Night as Mamie Burns. Jamie Tyrone says: "Guess which one of Mamie's charmers I picked to bless me with her woman's love. It'll hand you a laugh, Kid. I picked Fat Violet...soon as I got in the door, Mamie began telling me all her troubles. Beefed how rotten business was, and she was going to give Fat Violet the gate. Customers didn't fall for Vi. One reason she'd kept her was she could play the piano...Well, that made me feel sorry for Fat Violet, so I squandered two bucks of your dough to escort her upstairs" (Collected Plays, 1180).
In O'Neill's youth there actually was a New London prostitute named Violet who played piano at one of the Bradley Street whorehouses. When The Great God Brown was first published in 1926, O'Neill's New London friends were amused by his description of Cybel's brothel parlor, recognizing that it was based on one of the city's more popular houses of ill repute.