Chapter IX
Spring, and once more the O'Neills went to the Cape to open Peaked Hill Bars. Ted went up again to visit for part of the summer, and Jamie was with them much of the time. Margery took a trip up from Jersey to visit in May while Gaga (Shane's name for Mrs. Clark) was away for a vacation. She was able to watch Shane off and on, so Aggie might find some time to write. Barbara Cookie, now eight years old, was also going to spend part of the summer with her mother, step-father and little brother. Cecil II was another one of the family to go up for a weekend once in awhile.
Gene had recently been granted a visit with his son, Eugene Jr., by his ex-wife Kathleen. He had seen him only once before as a baby and now twelve years later Gene was going to have his son for part of the summer. Cookie and Eugene Jr. were both to be at the Cape and able to play together. When the time came, Cookie could not help developing a crush on this handsome young boy.
Margery was constantly impressed with the continuous flow of interesting people coming and going. She thoroughly enjoyed being a part of the scene and meeting people such as Mary Heaton Vorse, who "discovered" Provincetown in 1907, and had owned a fishing wharf which she bought for fifty dollars and turned it into the Wharf Theater, which eventually became home for the Provincetown Players.
Susan Glaspell, novelist, and her husband Jig Cook (George Cram Cook), poet and playwright, were often guests at the house in the dunes. People from the Wharf Theater and the Provincetown Players left strong impressions on Margery as she saw them more and more often. Bobby (Edmond) Jones, stage designer, Hutch (Hutchins) Hapgood, novelist and essayist, Harold de Polo, a writer, and of course Harry Kemp, the poet, all became regulars at the O'Neill house. They had a profound effect on Margery's outlook on life and her own philosophy.
When they were alone on the beach one afternoon, Aggie suggested to her sister that if she went to secretarial school in New York to learn some short-hand and typing she might get a good job. "Then, later on," she smiled, "Perhaps you could help Gene. You know how he hates typing. Think about it!"
Margery thought about it and in October moved into the city to stay with the Biancos. Her Aunt Margery and Uncle Francesco were living on 12th Street and were delighted to have their niece with them. Margery applied and was accepted at a secretarial school. After the training, she went to work for a Doctor Maloney, as a receptionist in his office. She was fascinated with the man and the book he was writing on a history of the Irish revolution. She had a sincere interest in history and wanted to learn more of the truth about what was happening in Ireland.
When Margery reached the Bianco's one afternoon after work, there was a letter from Agnes filled with all kinds of news. Jamie had not been well since Ella's death. He was "drying out" at Riverlawn Sanitarium in Patterson New Jersey. Aggie was concerned because Jamie didn't seem able to handle it when anything went wrong.
Margery stopped reading the letter and thought about Jamie for a moment. There was so much more to Jamie than his drinking. He had a sense of humor, which went from ribald to cynical, but he also had a gentle, kind side, which came out in many ways. He, too, was a poet, but couldn't get past the fact that his brother was Number One. He could not compete with that, being extremely sensitive, and would take everything to heart and let it destroy him. Margery was quite aware of this side of Gene's older brother and felt touched and saddened by it.
Back to Aggie's letter and the big news: Aggie announced that she and Gene had bought a thirteen-acre farm in Ridgefield, Connecticut, called Brook farm, and they would use it in the winter because it was close to New York. She described the large mansion-like house with enough rooms for everyone to be comfortable, and where Gene could work quietly in a room at one end.
Aggie was also excited because Mrs. Clark was able to go with them and care for Shane. "Shane calls her 'Gaga' and I call her 'Clarkie'," Agnes wrote. "I'm not sure she likes it…I'm not sure she likes me…but Shane loves her!"
The next part of the letter delighted Margery. Aggie asked her if she would consider leaving Dr. Maloney in New York and go up to Brook Farm in the spring, to type for Gene. They would pay her, of course, and it sounded like a very interesting job.
In the early spring of 1923 Margery gave her notice to Dr. Maloney. He was sorry to see her leave, and said she was welcome back any time. In March she headed up to Ridgefield on the train, and ended up working through May with O'Neill.
Margery quickly became a part of life at Brook Farm and loved being in the large old Colonial sitting high on a hill. Vincent Bedini and his wife, Maria, were part of the staff caring for the house and grounds, while their little son played with Shane. There was also Kawa, the Japanese butler, who cooked and served meals, as well as chauffeuring the family in their handsome Packard car.
During those busy days in Ridgefield, Margery ran off a letter to her mother and father.
Dear Teddy and Ma,

Time flies by. I'm typing every day for Gene. It's going well. I have to use a magnifying glass, but it works.

Shane is such an energetic little boy, and he likes me because I read stories to him every afternoon. Cookie is so happy to be here for a while. She loves Shane and seems to have fun playing with him. They can make all the noise they want to because the house is so large! Gene works way down the far end.

I do wish Gene and Aggie wouldn't be so short with each other if they get into an argument. They are both so sarcastic…especially during cocktails before dinner. I am really enjoying reading Gene's play while I type, though it is hard sometimes to decipher his small writing.

Aggie and I have had some good talks. She and Mrs. Clark are a bit snappy with each other, but it's getting better. Shane adores his "Gaga." Hope to see you soon.

Much love, Budgie
In 1922 O'Neill had written the entire one act of The Hairy Ape on a single sheet which Margery had for years. She kept it in the old steamer trunk and would sometimes pull it out with the family photographs, many of which she had taken, and she would show it to us. It was amazing to imagine someone writing in such small script. The page finally went to Louis Sheaffer when he was writing his biography of O'Neill, but she did keep a copy of one sheet with the entire play of All God's Chillun Got Wings.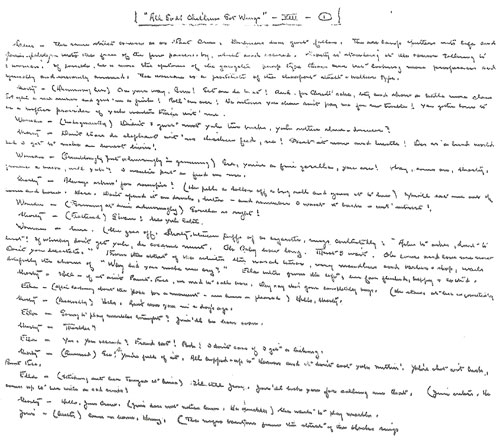 Page from All God's Chillun, 1923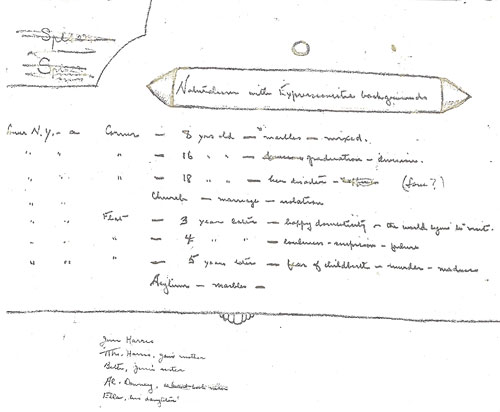 Scenes laid our for All God's Chillun, 1923
Margery worked with Gene as he found his way through a new play called Welded. He was having a very difficult time, and became quite depressed. The plot was so much a picture of his relationship with Agnes. He became very emotional about it and, for the first time in quite awhile, instead of working he began to drink. He imagined Agnes having affairs with lovers out of town. At one point when Aggie had gone to New York, he was certain she was meeting someone and that a relationship with another man was in the wings. He had too much to drink and went into a rage. The end result was his tearing a painting by Eakins off the wall and slamming his fist through the canvas, totally destroying it. It was a portrait of her father, Edward Boulton, and Aggie's most treasured possession. Gene also took every photo of Agnes he could find and cut them to bits.
Margery was devastated, and Agnes beside herself when she returned and discovered what had happened. It was a horrible moment for both, and as Gene sobered up and realized what he had done, he was horrified. The painting had been so special to all the family. How would they tell Nanna and Teddy?
Gene suffered great remorse at having destroyed the painting. It was something he had a very difficult time dealing with. He had become very fond of Ted and respected him as an artist, also feeling strongly that Ted was the kind of gentle, caring father Gene had yearned for so often.
Unhappily, tragedy slipped into the scene again. Jamie had not been the same since his mother's death. He drank until he had no recourse but to be taken on May 20th to Riverlawn Sanitarium in Paterson, New Jersey. He died there five months later on November 8th. The hospital stated it was arteriosclerosis and cerebral apoplexy. Gene and Agnes felt that it was grief and an unspoken wish to die. Gene was unable to deal with another family death within such a short space of time. He and Jamie had been extremely close and Gene felt as though he were falling apart. The last one of his family was gone. Gene asked Agnes and Margery to take care of the funeral arrangements.
The two able young women went down to New York to the funeral parlor where Jamie's body had been transported, and were appalled to find Jamie resting in only his underwear. He had always been a fine dresser with an extensive wardrobe, and this was certainly not the way he would wish to be seen. Apparently his clothes had been stolen along the way, and so the undertaker, supplying a "half suit" for such occasions, put one on Jamie and tucked it in around the edges.
Services were held in St. Stephen's Church on East 28th Street, with the very obvious absence of his brother and last remaining relative. Gene had not been able to bring himself to attend the funeral service, using a hangover as an excuse. Margery saved a funeral card from Jamie's service and kept it for over fifty years.
| | |
| --- | --- |
| Funeral service card from Jamie's funeral, 1923. | |
Agnes and Margery accompanied Jamie on his last trip as the train carried all three up to New London where he was to be buried in the family plot at St. Mary's Cemetery. Gene stayed in New York. For Margery, who was only twenty-three, the scene on the train was strange and somewhat comical. She could never talk about it without a mischievous smile. It amused her to think that she was riding on a train with the wife of Eugene O'Neill and taking his brother to his final resting place, dressed in a "half suit" because he had arrived at the funeral parlor in only his shorts. In telling it, Margery related the story as though it were a scene from an O'Neill drama. She said her feeling was that Jamie would have enjoyed it immensely.
In the spring of the year, young Cecil, with her husband Eddie Fisk, visited the O'Neills and Margery at Brook Farm. Shortly after this, Cecil suffered a nervous breakdown. She went with her mother to Newport, Rhode Island, to recuperate while Eddie returned to New York to work. In August young Cecil was much better and able to sail with Eddie on the 23rd of June for a two year stay in Italy. They would return with many wonderful paintings by Fisk, which have been shared with the family and friends.
| | |
| --- | --- |
| | Cecil II and Eddie Fisk after marriage, 1922. |
Brook Farm was closed on June 24th, and the O'Neills, with Margery, did their annual trek to the house in the dunes. They returned to Brook Farm in October where Gene had adopted a large Irish wolfhound with the magnificent name of Finn MacCool. Many years later Margery told the family her story of the adventure she had with this huge dog Gene had brought over from Ireland. He was a rare breed which had been the royal dog of Irish kings. MacCool definitely had a mind of his own and Budgie found out the hard way that he was not a dog to take for a nice walk in the country. One day on a walk the gigantic Finn MacCool suddenly charged off, uncontrollably chasing cows and killing a dozen or more chickens. Gene paid the farmer for his dead chickens, and Margery never went for a stroll with the great MacCool again!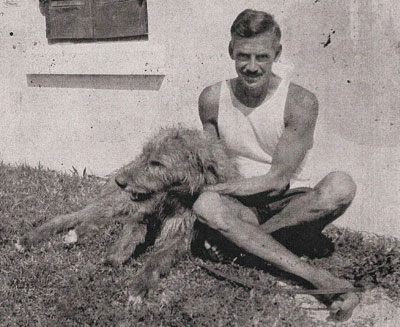 Gene O'Neill and Finn MacCool, 1923.

Chapter X