Chapter IV
The other Boulton daughters were growing up one by one and going off to make new lives for themselves in the outside world. Barbara, or Bobby, two years younger than Agnes, was the only one who didn't step into city life. Visiting Aggie, she had met a man from Connecticut who owned a farm. She fell in love with him, and they married and raised a large family of six in their home, up the hill from grandfather Teddy's old studio in Woodville, a part of New Preston. Bobby was the only daughter who managed to remain married and keep her family together.
Quiet and shy, Bobby was a determined young woman. In her teens she had puffed her thick brown hair into a huge pompadour, which for years she refused to change. Her eyes were a soft blue like her father's, and her smile held a secret that no one knew. The sisters had tried persuading Bobby to follow through on her desire to become a lawyer. She had a shrewd mind, appropriate for the profession, though it would have been difficult for any woman in those times. Bobby liked her life the way it was….or so she said.
Enamored of Eugene O'Neill after he married Agnes, Barbara Sheldon named her second daughter after him, calling her Gene Sara Elizabeth. Because of much confusion the family decided to change Gene to Jeane, and so this Jeane later named one of her sons Gene, also after O'Neill.
I recall Bobby leaning against the stones of the fireplace in her kitchen, with her arms folded across her chest, staring for a long time out of the window, or reminiscing about the old days. She carried a bitter tone in her voice at times, as she talked about how hard she and Walter had worked and having the kind of life that was not easy. There was no longer a closeness with Aggie, though the O'Neill children went to visit on the farm in Woodville. They lived in two different worlds.
Bobby seemed a bit of a recluse and preferred being at home when the family took off for shopping, or for fun times. Perhaps she enjoyed those quiet moments with the family all gone for a time. Bobby died of cancer, years later, in Torrington, Connecticut with all the family around her bedside.
Young Cecil, called Cis by the family, inherited her father's talent for drawing and painting, and lived the greater part of her life in Greenwich Village, New York City, working as a free-lance artist and writer. She was small and dainty as a young woman and had an appealing and winsome expression. One of her father's friends, Edmond T. Quinn, also a member of the Art Students League and student of Thomas Eakins, had become a well-known artist and sculptor in New York. He painted an endearing portrait of young Cecil in her teens.
| | |
| --- | --- |
| | Young Cecil II, circa 1920. Painting on board by Edmund T. Quinn. Courtesy of Roy Pedersen collection. |
Cecil later posed for the famous Japanese sculptor, Noguchi. The bust has been described and pictured in a book on his life and work, "Isamu Noguchi, Portrait Sculpture," by Nancy Grove. (Published by The Smithsonian Institution Press, 1989)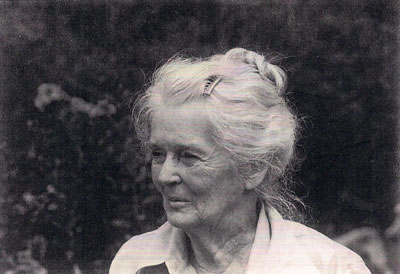 Cecil Boulton II in her 70s, 1973. Courtesy of M. Boulton collection.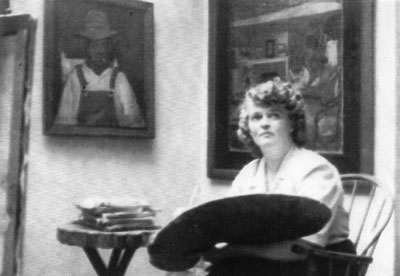 Cecil in her N.Y. Studio, 1947. Courtesy of M. Boulton collection.
Cecil's own work kept her going. She sold newspaper stories, wrote and illustrated a series of children's books with help from the W.P.A. established by Roosevelt during the days after the Great Depression. She was able to make ends meet with her sketches and paintings. Cecil married and divorced twice, and later settled back into life in New York City on West Eighth Street, where she lived forty years in the same apartment. She had a deep and caring relationship with a newspaper-man who lived in the same apartment house. When Paul Dallman died, Cecil moved up to Connecticut to be close to her family.
Of O'Neill, Cecil said, "He's a difficult man to live with or to be around," adding "I liked him, but he could be a fiend when he drank." She told us a story of the night when she and Eddie Fisk, her first husband, were having drinks with O'Neill in his study, when he pulled a revolver out of his desk and sighted along the barrel. He announced he was a good shot and could put a bullet through a little thing on the wall across the room. Suddenly, she told us, he pointed the unsteady gun toward Cecil and told her, "I could shoot you right in the middle of your forehead." She and Eddie sat paralyzed until he finally put the gun away.
My mother, Margery, born in 1900, was the youngest of the Boulton girls and named for her aunt Margery Winifred Williams, (later Margery Williams Bianco, author of the beloved children's book The Velveteen Rabbit, as well as many other children's books). The family called young Margery "Budgie" because her sister Cecil could not pronounce the long name.
As she grew into a young woman, Margery was very active, learning to sail, reading voraciously and trying to keep up with her three older, sophisticated sisters. Long, thick dark hair twisted into a bun on the back of her head, large gray-blue eyes, Boulton features with high cheekbones, a straight nose and shy smile describe Budgie as she followed her sisters out into the world. Tall and thin and slightly round-shouldered, she was quite lovely. Edmund Quinn also painted a portrait of Margery, which is now in a private collection of Roy Pedersen, friend of the family and art historian from New Jersey.
| | |
| --- | --- |
| | Margery Boulton, circa 1902. Painting on board by Edmund T. Quinn. Courtesy of Roy Pedersen collection. |
Margery, wild and rebellious in her youth, threw off the yoke of her Victorian heritage to follow in the steps of her avant-garde mother. As well as being an avid reader, deeply interested in history and politics, Margery, in her late teens demonstrated a belief in equality by smoking cigarettes as many of the young men did, riding an Indian motorcycle and playing drums, all of which added to the picture of this individualistic young woman.

Chapter V