REVIEWS OF O'NEILL PLAYS IN PERFORMANCE
1. STRANGE INTERLUDE, directed by Keith Hack, Nederlander Theatre, New York City, Feb. 21 - May 5, 1985 (extended for 24 performances beyond its original closing date of April 7).
Beyond the good news of its box office success, this transplantation of the 1984 London revival proved that Strange Interlude remains a theatrically viable entity and offered a production that is unlikely to be bettered in our time. Detractors of O'Neill's Freudian "woman play" may not have been converted; and a number of critics were disturbed at the amount of laughter it aroused (laughter as much at as with the characters and speeches); but the slightly trimmed performance with two intervals provided the fleetest 4i hours on Broadway this season. An agreement with Actors Equity permitted the four London principals to repeat their celebrated performances--Glenda Jackson (Nina), Edward Petherbridge (Charles Marsden), Brian Cox (Ned Darrell), and James Hazeldine (Sam Evans)--with American actors in the supporting roles.
It's amazing what a fresh, even brash approach can do to resuscitate a play generally relegated to the dustbin of "interesting" failures and quaint antiquities. What director Keith Hack did, with the assistance of cast, composer and scenic designer, was scrape off the reverent barnacles that usually accompany the famous "spoken thoughts" and play it straight. No looming pauses; no change of position, tone or even volume; no freezing of the others as each blue-bathed thinker reveals the feelings that contradict his public utterances. Such ponderous devices do more to elicit disbelief than aid its suspension. By eliminating them, Hack not only shortened the playing time; he also showed that O'Neill's theatrical instincts, even at their most untraditional, were right on the mark, thanks (in this case) largely to his canny decision to start the play with a character thinking alone. Marsden's opening monologue establishes the convention in a thoroughly traditional way; and when it is extended beyond his solo scene we continue to accept it when, as here, the actors treat it so "naturally." Discovering that we have been endowed with omniscience, we relish every revelation, especially when a character's thought is at war, not only with his spoken words, but with other, conflicting thoughts.
The reunion of Ned (Brian Cox) and Nina (Glenda Jackson) in Act Eight. (Photo by Zoe Dominic.)
Granted, Hack's revisionist approach didn't reveal a flawless masterpiece; much of the aforementioned laughter would have horrified the playwright, who clearly took his characters' inner conflicts and attempts at analysis more seriously than the audience did. But even if O'Neill the psychologist didn't emerge unscathed, O'Neill the man of the theatre did: he triumphed. Many an uncluttered Strange Interlude will, I am sure, follow Hack's pioneering lead. If so, the major achievement will be less its own considerable success than its return to the standard repertory of a major dramatic work.
The set, designed by Voytek (the London designer) with Michael Levine, featured high walls of horizontal gray clapboard at rear and sides, towering over a slightly raised platform of wide planks front-to-back (also gray), around which, at the front and sides of the stage-proper, sere leaves were parsimoniously strewn. Blue and white cloud forms streaked diagonally across the walls at times to add (with the leaves) a touch of credibility to the outdoor scenes, and flats were lowered to suggest the various locales: a wall at the rear with classical doorway flanked by
glass-doored bookcases for Professor Leeds' study; a more rustic downstage wall with door, their paint peeling, for the front of the Evans home; a wall with tied-back bead curtains in its central portal for Sam and Nina's Long Island sitting room; and a low railing across the rear, with a deck and flag pole behind it, for the last-act terrace which, in this production, served as the eighth-act setting as well. And each locale featured a spare but adequate assortment of furniture and bric-a-brac that, like the costumes by Deirdre Clancy, made up in authenticity for their lack of contemporary appeal.
The incidental music by Benedict Mason, that bridged the interact pauses, complemented the settings in its sparseness (piano, violin and a few woodwinds) and also matched the play's own blend of neat surface realism and chaos beneath: its mélange of melodic fragments redolent of Americana--march, dance and hymn tunes (probably original, though "Bringing In the Sheaves" seems to surface occasionally) --frequently veered contrapuntally into dissonance in the manner of Charles Ives at his least transcendental.
But it was the actors--above all, the central British quartet--who made the long evening memorable, even glorious. Glenda Jackson adopted a persistent tic--a three- or four-step upward jerking of her head--that seemed real enough for one to hope it was adopted, but that failed to gauge any change in Nina's nature, since it was present from beginning to end. (One would expect it to diminish, at least, once she had achieved her goal to "pass beyond desire" and "rot away in peace" with her "nice Charlie doggy"--but it didn't. The rotting was not all peace, and the gratuitous tic offered less nuance than nuisance.) But it was her voice that made her ideal for the part: her ability, even at midsentence, to switch from mellifluous purr to venomous rasp, so appropriate for Nina, who runs the gamut of feline emotions. (Something in its timbre made one wish that Katharine Hepburn had essayed the role in earlier days.) Every nuance of Nina's lines was lovingly revealed, subtext vied with text in the delivery, and the periodic apostrophes to "Mother God" had the warm ring of long-standing conviction. I still resist the view of Nina as archetypal Everywoman, but Jackson managed to create a believable human being out of O'Neill's anthology of female stereotypes.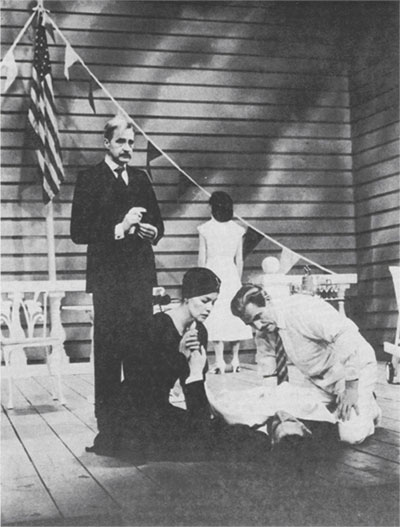 Nina (Glenda Jackson) and Ned (Brian Cox) kneel by the stroke-felled Sam (James Hazeldine) in Act Eight, as Madeline (Caitlin Clarke), at rear, savors young Gordon's boating victory. (Photo by Zoe Dominic.)
DARRELL. Is her husband dead ... at last?...
MARSDEN. I will not have long to wait now!...
Nina's "three men"--semi-satirical portraits of the artist, the businessman and the scientist--are harder to humanize, but Jackson's co-stars did very well indeed. Edward Petherbridge almost stole the show as Charles Marsden, conveying all the repressions of the prissy penman (legs crossed, arms crossed, hands held together when one wasn't picking at the immaculate fingernails of the other) and mining every vitriolic vein in the lines with which he needles others and responds with bitchy wit to every real or supposed affront. Even the more florid, overwritten passages seemed fully believable: this was how such a writer would speak. His drunk scene in the eighth act, when he reelingly cast off all his usual inhibitions, was the evening's comic highlight. But this Marsden was no clown. He showed real pain when forced to consider that his mother may have cancer; and the tender triumph of his closing line--"God bless dear old Charlie ... who, passed beyond desire, has all the luck at last!"--brought a final glow to the evening's twenty-five years of turmoil.
James Hazeldine (Sam Evans) aged convincingly from brash, likable clod to vested, paunchy, red-faced business success, and his eighth-act stroke was ghastly in its life-likeness. Brian Cox (Ned Darrell) captured all the forces that turn a promising scientist into a self-rebuking derelict for whom we feel as much pity as scorn, even though he is burdened with the wildest of the evening's assorted "thoughts." (Cox's "Got to go! ...can't go!...got to go!..," when trying to flee from Nina in Act Five, earned ubiquitous titters--only partly because of its rapid-fire delivery--that could hardly have surprised the author.) The American players in the smaller roles were serviceable at best, except for Tom Aldredge, who caught a touching quality in Professor Leeds, torn between loneliness and stoical self-reliance, that I'd never found in the text.
There is little point in niggling about the accents of the British quartet. Hazeldine's Americanese was decidedly the best, while Jackson made, as far as I could tell, no vocal concession to the country of her character's birth. Between them, Cox and Petherbridge succeeded in devising speech patterns that I suspect have never before been heard anywhere on the planet! (The former, at Darrell's moments of greatest stress, betrayed the Scottish burr of his youth. The latter claims to have patterned his delivery on that of Alistair Cooke--an influence that I could not detect at the time.) But so what? They all captured the complex essences of their respective roles and achieved a level of ensemble performance seldom equaled these days in the commercial theatre.
Many a flashy production dissolves on recollection. This one had abundant surface fireworks and continued to deepen and expand in the memory afterwards. It may not have won any of the Tony awards for which it was nominated, but it was a performance to cherish.
--Frederick C. Wilkins