I sometimes went across the hallway to see my friend Molly. She was a sweet lady, who must have been 90 years old. Molly had a two bedroom apartment, full of antique dolls and old toys that I could look at, but not touch. Molly also had six cats and an old, cross-eyed bulldog, named King. I loved talking with Molly about her dolls, and playing with her cats and King. I'd stay with Molly for hours, just to be away from my father Shane.
The Chaplin Party
Later that spring, we all were invited to a goodbye party for my Aunt Oona and Uncle Charlie Chaplin – yes, Charlie Chaplin the great actor. Charlie Chaplin was married to my father's sister Oona, and they were on their way out of the country because Joseph McCarthy thought that Charlie was a communist. He was not! So the whole Chaplin family was moving out of the country forever, and they stopped off in New York on their way to Switzerland.
Maura, Ted and I didn't have nice clothes to wear to such a fancy party, so my mother took us all uptown to Macy's department store and used the "rent money" to buy us new dresses, shoes, socks, and a sailor suit for little Ted. Maura found a cute little cotton dress, with red and green dots, that she loved. Maura didn't like dressing fancy, but I wanted a fancy dress. I must have tried on ten dresses before I saw the one I wanted. It was a purple and white dotted Swiss dress, with tons of lace, embroidered flowers and birds. The dress was very expensive, but my mother said I could have it because it looked so cute on me and she saved a lot of money on Maura's dress.
"Your little girl looks like a little princess in this dress," the clerk told my mother.
Three days later, we arrived at the hotel where Charlie, Oona and their four children were staying. Geraldine was eight, Michael was six, Josephine was four, and Victoria was two and a half, all close to our ages. (Maura was five, I was three, and Ted was one and a half.) As soon as we walked through the door, the Chaplin children, dressed up in their very best, greeted us.
"Hello, I'm Geraldine," the tallest girl said, as we walked in. "I'm your cousin. Do you want to play with my new doll?"
Maura walked into the back room with Geraldine to see the doll. I was shy and standing next to my mother Cathy, holding her dress hem, when Uncle Charlie came over.
"Hello, sweetie, what's your name?" Then he said to Cathy, "Wow, she looks just like Shirley Temple," as he gave me a chocolate candy bar.
I smiled and said, "Thank you. My name is Sheila."
"What a beautiful little girl, in such a wonderful dress," Charlie said. "Do you want to see the clowns?"
Charlie took my hand and sang the song "Smile" which he had written, as we walked into the ballroom.
In the ballroom, there were clowns, balloons, candy, ice cream and the biggest cake you can imagine. There were also lots of great presents for us kids – books, dolls and toys all over the room – and gifts for Cathy and Shane.
"We're having a party today," Charlie said.
Later, I was playing with Josie and Vickie (Josephine and Victoria), when Charlie walked in. Both girls ran to him, calling out "Daddy! Daddy!" as they gave him a hug and kiss. I remember sitting there thinking what a wonderful daddy they had. I wished Shane were more like Uncle Charlie.
Later that day, we all had cake and ice cream. Charlie walked into the room dressed as the Little Tramp, with his arms full of gifts. Little Ted couldn't stop laughing at Charlie's huge, funny looking shoes. Charlie handed us all presents in fancy wrappings. Maura and I both got beautiful new dolls and fancy ballerina costumes. Maura's was blue and mine was pink. They were full of sparkles and rhinestones. Ted got the sweetest little tiger costume and a big, fluffy teddy bear. I think they were the best gifts I ever got in my entire life.
Moving to Point Pleasant
It was midsummer that same year. My mother had just finished washing my hair and had Ted in her arms. She was about to give him a bath, when the landlord knocked on our door. He was there, along with a marshal, ready to throw us all out into the street. Shane and Cathy had not paid any rent for over three months, and after five warnings to move out before we were thrown out, they were now here to evict us.
The landlord saw Ted, crying in Cathy's arms, and Maura and I with dripping wet hair, clinging to our mother's apron. Shane was nowhere to be found.
"I will give you one more week to move out," the landlord said to Cathy, "but you must be out by next Monday morning at ten o'clock. I will be back."
"Thank you," said Cathy. "Yes, we will be gone by Monday."
Shane was no help at all. He had been gone for over two weeks and no one knew where he was.
Over the next few days, Cathy got everything she could fit into a few boxes and a small suitcase, together with help from Hilda. Cathy put all the nice things we got from Charlie and Oona, and our best clothes, in one box and marked it "Oona's" so she wouldn't forget it.
Friday morning, Shane finally came home, looking tired and even thinner than he did before.
"Where the hell have you been for the last two weeks?" Cathy asked him.
"I was in jail," he said. "I was just walking down the street in Freehold, minding my own business, when a cop stopped me for hitchhiking. He found some weeds in my pocket. He thought it was marijuana. That dumb cop arrested me and took me to the police station. But when we got to the police station, the chief laughed, 'That's not pot. It's only old grass weeds.' Then all the cops started laughing. But they put me in jail for two weeks anyway for trespassing. I hate the damn cops!"
Cathy told Shane about the landlord and that we had to be out by Monday. Then she started crying.
"We have no money and no place to go with the children."
Shane stood there, thinking to himself. Then, in an excited voice, he yelled, "We can go to Point Pleasant to stay at my mother's house. I heard that Aggie and Mack were on vacation in Mexico and will be away from the Old House for a few weeks or even months. I'm sure mother won't care if we stay there a few weeks with the kids while she's away."
"Well, if you don't think Aggie will mind," Cathy said, "I guess it will be OK until we find a new apartment."
The few weeks we were going to stay at Aggie's house ended up being almost two years.
Cathy and Shane borrowed twenty dollars from a friend, and we left for the Old House in Point Pleasant, New Jersey. All Shane and Cathy could carry on the train with all us kids was a small suitcase, with the clothes we needed right away, and one box that was filled with Shane's things. Shane told my mother he would pick up the rest first thing Monday morning on the way to his lawyer's office.
Shane did go back and get the one box that Cathy had marked "Oona's," just before the marshal and landlord came back. Shane took it to Penn station and put the box in a locker, while he went to talk to his lawyer. But he forgot all about it and got on the train back to Point Pleasant without any boxes. When Shane came home, Cathy asked him about the box, but Shane couldn't remember where he had left it. We never saw our things from Oona and Charlie again.
The first thing I can remember about Aggie's house was Shane taking me out in the backyard and leaving me there in the middle of some tall grass and weeds that were over my head. All alone in that jungle of grass was terrifying, and I thought I was going to be eaten by a tiger or monster. It seemed, at the age of three, that I was out there for days.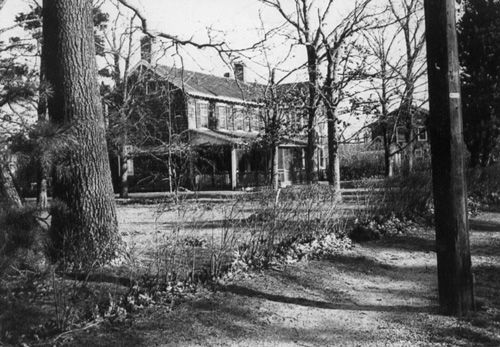 Aggie's house, circa 1910
Aggie's house was huge. It had six bedrooms, a dining room, living room, large kitchen, and a huge studio. The studio was built by my great grandfather Edward Boulton. He was called "Teddy" by family and friends. Teddy was a wonderful, early twentieth century impressionist artist, and he added the studio to the Old House around 1900 so he could work on his paintings. In the studio, lots of great impressionist paintings hung on the walls. Most of them were painted by Teddy, but there was also a very large painting of my great-grandmother by the artist Tomas Eakins.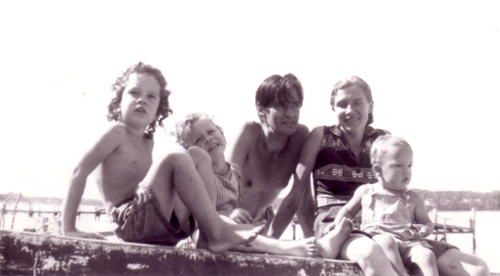 At the river in Point Pleasant, 1953
The house had a large screened in porch, three fireplaces and a beautiful diamond shaped, stained glass window,which shined color down the back staircase. Teddy had this beautiful window added to the house at the same time as the studio. The house was also full of beautiful antiques, including a huge oak rolltop desk that I used as a doll house when I was little.
There was the most unusual mahogany dining room set. Someone had painted all the beautiful dark wood a light green and pink. The table had a heavy, marble top. I never to this day saw a mahogany set as beautiful as the one Aggie had, or a marble top table as large as hers.
Aggie called her house the "Old House."
The Death of Eugene O'Neill
On November 28, 1953, not long after we had moved into the Old House, my father Shane was reading The New York Times. On the front page he read, "Eugene O'Neill died today at 65 from bronchial pneumonia in the Shelton Hotel in Boston, Massachusetts." No one had told Shane about his father's death, or even how sick he was. Shane was upset, but most of all, he was hurt that he had had to find out about his father's death in the newspaper.
Shane said to Cathy, with tears running down his face, "Dad's dead."
"Oh, my god," said Cathy, "I'm sorry. What happened?"
Shane just fell into her arms, crying his heart out.
"Why? Why? I loved him so. Why didn't I let him know before he died?"
"I think he never really understood you very well," Cathy said, "but I know he really did love you."
Shane sat at the kitchen table crying, as he told Cathy how he was a failure as a son to his father, and now also a failure as a father to his own children.
"I've been a failure all my life. I haven't been happy since I was six years old on vacation in Maine with my mother, father, Eugene Jr., Barbara and Oona. We all had such a wonderful, happy summer that year. I met Eugene Jr. for the first time and we were the best of friends from the start. Barbara was also there and I still had my buddy Finn, my Irish wolfhound. Oh, Cathy, that was a very happy summer, until she (Carlotta) destroyed my family forever.
| | |
| --- | --- |
| | |
| Cathy, 1945 | |
"By the fall of that year, I lost most everything I loved. My dog Finn was killed by some crazy man in Bermuda, just for getting into their chicken coop. Later that same week, when Mom got back from New York, she told Oona and I that Dad wasn't ever coming back home. He left us all for that woman he met in Maine.
"In the last ten years I lost so much. It all started when I was in the Merchant marines in World War II. Three of the ships I was on were sunk. I lost almost all my friends on those ships. I can remember pulling a burning sailor out of the water who was still of fire. He looked me in the eyes and said 'momma' and then he died in my arms. That's when I started taking drugs to try to forget the horrible things that happened in the war.
"But I thought I was going to be happy again. Dad was finally talking to me, and I was married to you and we had our new baby. But we lost our beautiful little baby, Eugene III. Everyone, including Dad, blamed me and you for his death and neglecting him. I started taking drugs again, this time more than ever. Then my only brother, Eugene Jr., killed himself."
A few weeks later, Shane read in The New York Times that he, his sister Oona, and all their children had been disowned by his father.
"I didn't want anything from my father," Shane said to Cathy, "but it would have been nice to have his collection of jazz records."
Our Friend Johnny
By the fall, Maura had started school and had become very bossy. I remember one day I was out in the yard with Maura, eating a sandwich. There was an orange tomcat under the bushes, growling and hissing at us. I asked Maura why he was growling and so mad at us.
"I think he wants us to go away," I said.
But Maura said, "He's not growling. He's purring and wants you to pet him."
I put my hand on the cat's head, and started to pet him. He immediately grabbed my leg, with all twenty claws out, and wouldn't let go. Maura ran in to get our mother. Gakie came out with a pot of hot water and threw it on that nasty old cat. That crazy cat let go of my leg and ran off hissing. I still have scars on the back of my leg from that mean old cat.
One of Maura's and my first and best friends was a little boy named Johnny, who lived across the street. I remember being locked in our room with Maura, while mom thought we were taking our naps. Johnny climbed up the grapevine and knocked on our window, which Maura opened.
"Hi," said Johnny, "do you want to come out and play with me?"
"Gakie has the door locked," Maura said. "We can't get out."
"Don't be babies," Johnny said. "I'll show you how to climb out the window."
Maura and I followed Johnny out the window and on to the porch roof.
"How do we get down from here?" I asked.
"Just jump off," said Johnny, as he jumped to the ground.
Maura jumped right behind him. I stood there, too scared to jump, until Maura called me a fat, baby Santa Clause. Then I jumped.
While we were out in the backyard playing, Maura showed Johnny the old barn that we were forbidden to go anywhere near. My mother said the whole barn could fall on us at any time.
"It's not dangerous," Johnny said. "I go in it all the time and there are a lot of books and magazines up there."
Johnny opened the door and walked through. Maura and I followed him in.
On the bottom floor, there were a lot of rusted car parts, boats, broken furniture, and old tools. I also saw that nasty, orange tomcat lurking in the corner, under an old boat. I didn't go near him and he left me alone.
There was a narrow staircase in the middle of the old barn. About half of the stairs were broken or missing. Maura and I slowly followed Johnny up the old creaky stairs. On the top floor, there were hundreds of old books and magazines that had fallen to one side where the floor was slanted downward. The books were on the lower end, in a huge heap, and crawling with spiders. We were on the higher half.
"We can roll down on our bellies like seals to get the books," Johnny said.
We were soon rolling down the creaky floor. It was like sliding down a hill on a snowy day. But the more we played in the old barn, the more it shook.
"Oh, no!" I said. "The barn is moving and it might fall down on top of us. We'd better get out."
"It's not going to collapse," Johnny said laughing. As he held the walls and made it shake even more, pieces of wood were coming down from the roof.
From a hole in the floor, I saw the old tomcat run out the barn door after a mouse. "Thank godf he's gone," I said.
A little while later, Maura heard Cathy in the garden. Maura said, "We'd better get out of here before Gakie finds us."
We all came quietly out the back door. Johnny ran home. Maura and I climbed up the grapevine and back into our bedroom. My mother never knew we were out there in the old barn.
In the middle of that same night, I heard a loud rumbling sound, then a big crash. I then heard Shane say to Cathy, "I bet that was the old barn falling down."
When Maura and I went outside to play the next day, the first thing I saw was that the entire barn was on the ground. It was one huge pile of broken wood.
"Holy cow!" I said.
"Good thing we weren't in it then," Maura said. "That stupid Johnny thinks he knows everything."
Oona's Old Doll House
There was a large doll house in Aggie's back yard. It was about twelve feet by eighteen feet in size. The doll house was made for my Aunt Oona when she was a little girl. The house was lined with cedar wood and had a wonderful cedar smell as soon as you went in. It had built-in window seats and shelves, all in that beautiful cedar. It had a French door and tiny pane glass windows.
It had two floors and there was a ladder to go upstairs, where Aggie had put a beautiful, antique mahogany bedroom set for Oona to play with. This was not a child's set. It was made for my great, great aunt, who was only four feet tall as an adult. This was the most beautiful bedroom set I had ever seen. My mother hid the ladder to keep us kids from going up there.
Down on the first floor, where we played, there were some old chairs and a small table, and some of Oona's old toys. Maura and I moved all of our dolls and buggies into the little house.
One cold winter morning, I went in the little house to play with my dolls. I found all the dolls sliced to pieces and covered in black ink. I ran into the house crying, holding my poor sliced up baby doll which I had just got for Christmas.
"Gakie, someone cut up my new doll!" I yelled. "They cut Maura's doll, too, and all our old dolls."
My mother was horrified to see what some teenage boys had done to our dolls. Cathy couldn't understand how older boys could be so mean to little girls. She knew who they were. It was the Kelly boys, who lived on the Manasquan waterfront and were from a very rich family. The Kelly boys were allowed to run wild, doing whatever they wanted.
After that, my mother locked up the little house and no one was allowed in it. Cathy knew that the little house was Aggie's pride and joy, and she didn't want it destroyed by any bratty teenagers.
Baby Sister Kathleen
On February 26, 1955, my mother gave birth to a baby girl. She named her Kathleen. Maura and I were very excited and couldn't wait to see our baby sister. A few days later, the police chief brought my mother and little Kathleen home from the hospital in his police car. I was in the side yard playing with Johnny, when I saw them pull up. I came running over to the police car to see the new baby.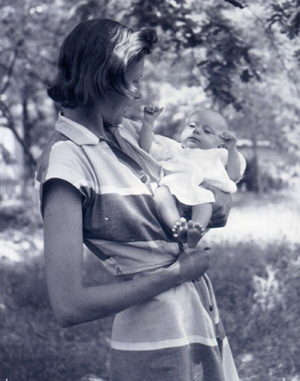 Cathy and Kathleen, 1955
I looked at my new baby sister and said, "She's a cute little baby. She's so little. What's her name?"
"Kathleen," Cathy said.
Then I ran off with Johnny, as my mother took Kathleen into the house.
At first, Kathleen was so small that my mother could wash her in a small bathroom sink She'd also fit in Maura's doll crib, where baby Kathleen slept for about a month, until Cathy got a crib from a friend.
Not long after the birth of Kathleen, Shane took off on one of his long journeys. Shane had been away for weeks, but no one knew where he was. Shane just took off and left my mother without any money, and now with four small children.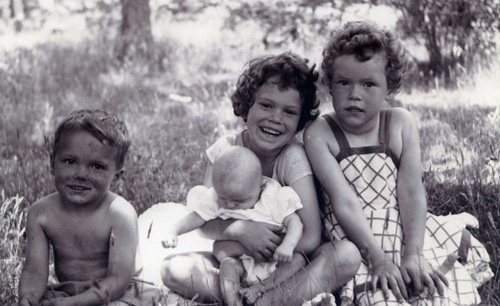 Maura, Sheila, Ted and Kathleen, 1955
One sunny day that spring, I was on a swing in the front yard. Maura was mowing the grass with an old push mower. Ted and Johnny were playing with Ted's toy cars and trucks in the dirt. Suddenly, five year old Johnny came over by the lawn mower and said to Maura, "I want to see what blood looks like."
He stuck his little index finger in the blades of the mower as Maura was mowing the grass. I heard an awful scream. Johnny ran past the swing and across the street, holding his hands together and crying. I jumped off the swing and ran over to where Maura was mowing. Maura was standing there crying.
"Johnny's going to die. I think I cut off his hand."
My mother came running outside to see what was wrong. Maura told her that Johnny had just cut off his finger or maybe even his whole hand. Cathy ran as fast as she could to Johnny's house to help. Little Johnny was in his mother's bedroom, crying and bleeding from his hand. His mother was hiding under the bed. She was terrified of the sight of blood. Cathy took Johnny to the hospital. Luckily, it was only a few blocks away.
Later that day, Shane, Maura and I were out in Aggie's yard, looking for the other half of poor Johnny's finger. Shane did find it the next day, but by that time the doctors said it was too late to put it back on Johnny's hand.
Early that summer, Shane took Maura and I on a ride on his bicycle. Maura sat on the back fender, while I sat on the handlebars. Shane rode us all over town, sometimes going very fast. It was scary but fun at the same time. We stopped off at the canal to go fishing and have a picnic. There was a fence all around the open water, except one small spot under the bridge.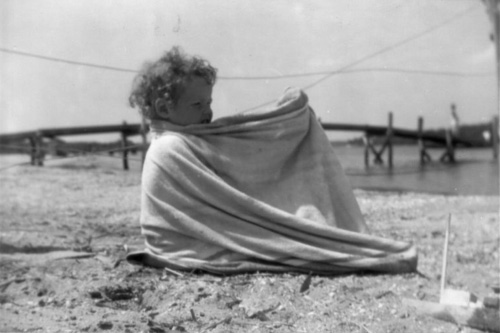 Sheila O'Neill, age 3
Shane took me over to that one spot and held me by the hands, and swung me over the deep, dark water. He thought it was fun, but I was terrified. Once again, I was alone with Shane near the water that I hated more than anything. The whole time, Maura stayed by the fenced in part, where she knew she was safe, and laughed at me.
Murder of Grandma Charlotte
On the night of August 5, 1955, the police chief came over to talk to my mother Cathy. They had some very bad news to give her. Cathy's mother, my grandmother Charlotte, had been stabbed to death by her ex-husband Robert in St. Cloud, Florida.
Charlotte was a nurse, and she had just arrived at the house where she took care of an older sick lady overnight. Charlotte was with a friend, and they had just gotten out of her car when Charlotte heard a rumbling noise in the bushes.
"I think it's a dog. Maybe he's hurt," Charlotte said.
Charlotte walked over by the bushes to investigate. As soon as she got close, Robert jumped out with an evil look on his face. Charlotte ran, screaming, "It's Bob and he's got a knife. He's going to kill me!"
Charlotte got about halfway to the house, but tripped. Robert caught her and stabbed her in the heart. Robert then threw the bloody knife on the ground and ran off.
As Charlotte tried to stand, holding her chest, she said to her friend, "Oh, my god, he stabbed me. Please don't let me die."
She was covered in blood and fell back down to the ground. Charlotte's friend went into the house and called the police for help. But poor Charlotte lay on the ground, mortally wounded, where she bled to death before help arrived.

Later that night, the police came to arrest Robert. They found him lying on the floor, foaming from the mouth. At the hospital, they found he had drank a bottle of drain cleaner, trying to kill himself. He didn't die and was later sent to jail for the rest of his life.
My mother Cathy fell to the floor when the police chief gave her the horrible news.
"Why didn't I insist on making Mom come with us when we left for New York?" Cathy cried. "I knew he was evil. Oh, my god, I left my Mother all alone with him."
Shane said, "Cathy, you tried to get her to come with us but she wanted to stay. It's not your fault."
"This is the worse day since I let our poor little baby Eugene die in his crib," Cathy said. "First I let my baby die. Now I let my mother die."
My brother Eugene O'Neill III was only three mounts old on February 10, 1946 when he died in his sleep from sudden infant death syndrome. At the time, the doctors blamed the mother for not taking good care of their baby. They told my mother and father that because they had Eugene sleeping in a dresser drawer, he had suffocated to death.
When my grandfather Eugene found out, he said he had had it with Shane, Cathy and the whole family, and disowned us all, even before Maura, Ted, Kathleen or I were born. When Carlotta found out Maura was born, she told Eugene that Shane and Cathy were unfit to have more children after letting the baby die. But Carlotta never did anything to help us kids.
Three days later, my mother Cathy went to her mother's funereal in Florida. Cathy took Ted with her, because she knew Shane couldn't handle rambunctious Ted. Maura and I stayed home with Shane, and little Kathleen went to Brooklyn with an aunt of Cathy's and her family.
Aggie Comes Home
While Cathy was in Florida, Shane got a telegram from his mother Aggie, telling how sorry she was to hear about Charlotte's tragic death. Aggie also wrote that she was on her way home from Mexico. Aggie had just found out by a phone call from the Point Pleasant police chief that we had been staying in her house for almost two years. And Shane had made quite a mess of her house.
Shane told Maura and I about our other grandmother Aggie and that she would soon be here living with us. I was very excited. We had just lost our grandmother, but now we would soon have a new one.
Shane thought it would be nice if we did something to surprise Aggie when she came back home to the Old House. He gave Maura and me some old National Geographic magazines and glue. Shane showed us how to rip out pictures we liked and then glue them on the walls of Aggie's studio. Over the next two days, Shane, Maura and I wallpapered Aggie's whole studio with the old magazine pages. We also made a huge mess. There was glue all over everything – even the prize Eakins painting.
The next day, my mother and Ted came home, and she found a box from her mother Charlotte on the front porch. In the box was a brand new baby carriage that had arrived in the mail while Cathy was in Florida at her mother's funeral. Cathy read the little card with the carriage that said, "Dear Catherine, this is a gift for little Kathleen. Love and kisses, Mother."
Charlotte had sent the baby carriage just before she was killed. My mother crying uncontrollably.
"Guess what, Cathy? My mom's on her way home," Shane said to cheer her up. "Come in the studio and see what Maura, Sheila and I did for her."
Cathy walked into the studio and wiped the tears from her eyes. She stopped crying and started laughing.
"Boy, Shane, I'm glad I was away when you did this. I can't wait to see Aggie's face when she sees her beloved studio."
Later that day, Kathleen arrived home with a bunch of new baby clothes from Cathy's Aunt Peggy.
"Kathleen will bbe the best dressed baby in Point Pleasant and will also have the nicest new baby carriage," Cathy said.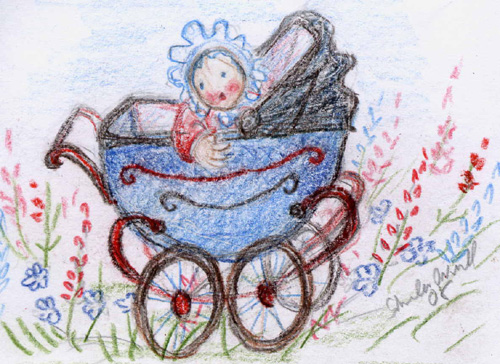 On an unusually hot day in late September, my grandmother Aggie walked through the kitchen door and said, "Hello! I'm home."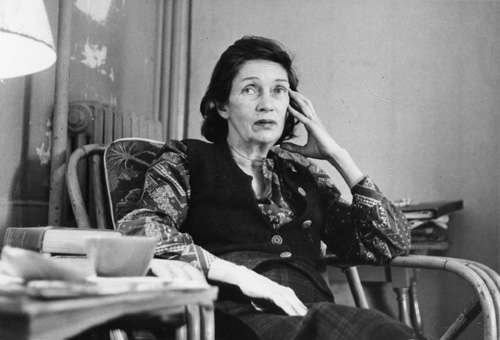 Agnes Boulton O'Neill, 1962
Cathy was just about to put a chicken in the oven for dinner. She gave Aggie a big hug.
"Aggie, we have been wishing for you for a long time. How have you been? Did you hear you have a new granddaughter?"
"Yes, I heard all about the baby from Barbara. Can I see her?" Aggie asked.
Cathy and Aggie walked into the back bedroom where Kathleen was sleeping in her crib.
"I want you to meet our new baby. This is your new granddaughter, Kathleen," Cathy said, as she handed little Kathleen to Aggie.
"What a cute baby. Look at her beautiful blue eyes," Aggie said. "Hello, Kathleen. I'm your grandma." Kathleen smiled back at her grandmother. "The baby is so sweet. I love her."
Shane came running down the stairs to see his mother.
"Mother, you're back," Shane said, as he gave her a hug and kiss. "Mother, I love you and I've missed you so very much."
"Shane I love you too, my sweet son," Aggie said, and gave Shane a hug back.
"Hi, grandma," Maura said, "We have a surprise for you. It's in the studio."
Aggie looked down at Maura, Ted and me, and said, "Wow, they are all so big now. And is that baby Ted? The last time I saw him, he was smaller than baby Kathleen."
"Come with us, Grandma Aggie," I said. "See the surprise we have for you."
Then all of us kids walked into the studio. Aggie and Shane followed us.
"Grandma Aggie, look what we did for you," I said in a loud voice.
Shane said, "Don't it look great!"
Aggie looked at the old magazine pages that were glued all over her prize studio walls. She looked as if she were going to faint. Then she let out a loud screech, "Shane! Shane!" She took a deep breath and yelled, "Oh, my god, Shane! What the hell did you do this time? You destroyed Teddy's studio!"
Aggie stomped her foot and went out the door, slamming it, and then lit up a cigarette. Maura and I went back outside, laughing at the whole thing. Shane didn't say a thing. He just went upstairs and fell back asleep.
In early September, Maura had started the second grade at school, where she met a new friend, Sally Stillwell. Sally was eight and a half years old, quite a bit older than Maura, so Maura looked up to her. Sally was a little on the wild side, and she was tough and street smart. Maura didn't play as much with Johnny or me now that she had Sally. Sally was allowed to cross the highway by herself and go to the river swimming alone. Sally did what she liked, without adult supervision.
A few days after Aggie came home, Maura and I were in the front yard, playing with Sally.
"I have three cents," Sally said. "Do you want to go to Angus' store and buy some candy? We can each have a penny."
The store was on Route 88, a very busy street that we were not allowed to go on without our mother.
"We're not allowed to go on Route 88 by ourselves," Maura said.
"I'm eight years old and I can help you cross the highway." Sally said.
So off we went to Angus' store, and we bought some candy. When we got back to Herbertsville Road and were ready to cross, there was Grandma Aggie, standing by the edge of the road.
"Don't you kids dare cross this street!" Aggie yelled. "Wait for me to cross you."
Aggie helped us back across.
"You are going to get it!" she said to Maura and me. "Sally, get out of here and go home. You are never allowed to see Maura or Sheila again."
Sally ran off as fast as her little legs could take her. Then Aggie took Maura and me in the house and gave us a spanking.
Later that night, I heard my grandmother fighting with Shane and Cathy. Aggie was yelling at my mother.
"The girls are going to get wild and badly behaved if you don't watch them better," Aggie said. "And you'd better keep Maura away from that little red head girl. She's trouble."
"Yes, I agree," Cathy said. "I know Sally is sometimes a lot of trouble. I'll keep Sally away from the kids."
Aggie then started yelling at Shane.
"Shane, you broke almost all the windows in my house. I was told by friends that the police have been to my house almost every week because of the way you fight with everyone in town. They said this behavior lasted the whole time I was in Mexico."
Shane got mad, threw a bottle through a window, and ran off swearing. My mother said she would start looking for an apartment for us.
"I think Aggie is a mean old witch," I told Maura.
"I wish we still had our old grandmother," Maura said. "I liked her much better."
"I wish Aggie would go back to Mexico," I said.
A few days later, I heard my mother and grandmother talking about my Grandmother Charlotte's tragic death. Aggie said to Cathy, who was crying, "I believe that people never really die. They just change bodies, if the old body is destroyed or too old. I believe in reincarnation and I'm sure that Charlotte will soon be back as a brand new baby."
"Do you think she will remember her past life?" Cathy asked.
"I don't think so," Aggie said, "but her inner soul will still be the same person and will live forever." Then she said, "I know that mama and Teddy are back on this earth as some sweet little child."
"That's wonderful," Cathy said. "All the people on earth have been here before and will be back again."
I was only five years old at the time, and listening to my mother and grandmother talking about reincarnation and remembering past lives. Out of the clear blue, I came over to Aggie and said, "I can remember when I was a cowboy riding on a horse, and then I got shot, fell off my horse, and died."
I was five years old, had never even seen a cowboy movie, and didn't know anything about getting shot and dying. But I can still remember telling Aggie that. I remembered a past life as a man, back around 1870. I don't remember the past life now, but I can remember remembering it.
Aggie almost fell off her chair when she heard me say that. Then she said to Cathy, "I once read that very young children can sometimes remember things about their past lives."
After that, Aggie and I were the best of friends. Sometimes Aggie took me out to lunch while Ted and Kathleen were napping and Maura was at school. I loved being with my grandmother without anyone else in my family there.
I still think Aggie's house is haunted by a good ghost. My mother told me that while we were living at Aggie's house, she was in the kitchen washing the dishes, and Maura, Ted and I were upstairs sleeping. Two young men, dressed in old fashion clothes, walked past her and one said, "Hi, we're here to see the Boulton girls." They walked into the dining room and up the back stairs.
At first, Cathy kept washing the dishes. But then she thought it strange the way they were dressed and that they had asked for the Boulton girls. The "Boulton girls" were my grandmother Aggie and her three sisters, Barbara, Cycle and Budgie. They hadn't been called the Boulton girls for over fifty years.
Cathy ran upstairs, knowing we children were up there sleeping. Cathy called out, "May I help you? What do you want?" but got no answer. She looked in every room and all the closets. All she saw was us kids still sleeping. The two young men had disappeared.
I remember when I was about four years old, I was in the downstairs back bedroom, looking at the wallpaper that was full of all kinds of flying birds. I thought how nice it would be to fly like those birds. The next thing I remember was flying around that room and looking down. At the time, I wasn't at all scared. I was having too much fun. I was only afraid of my mother getting mad if she came in and saw me flying around the room.
I can remember doing this twice. But as I got older, I was scared to even stand there and look at the birds. Aggie later talked to me about the ghost in her house.
I remember much later, when I was a teenager, staying with Aggie for a few weeks in the summer. I slept in the upstairs bedroom, just over the room with the bird wallpaper. Aggie was sleeping in the room with the birds. When I went to bed, I took a few cats in with me so I would feel safe from the ghost. Before getting into bed, I turned off the lamp that was standing halfway across the room and went to sleep.
The next day, when I woke up, I saw that gooseneck lamp right next to my bed and the light was shinning in my eyes. I was going to tell Aggie, but I forgot about it. But that evening, I was in the bird room with Aggie, when Aggie asked, "Did you move a lot of furniture around the room last night?"
"No, why?" I said.
"In the middle of the night," Aggie said, "I heard this strange sound coming from the room where you were sleeping that sounded like a piece of furniture walking around the room."
"Wow, Aggie," I said, "that is very strange." Then I told her about the lamp shining in my face that morning.
"I think it was one of my ghosts playing games," Aggie said.
I slept on the sofa in the studio after that.
© Copyright 2008 Sheila O'Neill. All rights reserved.