Afterword
Shane O'Neill's obituary appeared in The New York Times on December 7, 1977, almost six months after his death on June 23.
The suicide of Shane O'Neill, whose life in so many ways reflected the problems of despair raised in the plays by his father, Eugene O'Neill, was made know recently.

Just before midnight last June 22, Mr. O'Neill jumped from the fourth-floor Brooklyn apartment of a women friend with who he had been having an argument. He was taken to Coney Island Hospital and died the next day. He was 57 years old.

He leaves his wife, Catherine Givens O'Neill, from whom he was separated, and their four children, all now grown.
Sheila O'Neill relates that those "four children, all now grown" survived their turbulent childhood.
"I have some good news about the children and grandchildren of Shane. I am sure you have read all about Shane and his trouble with drugs and the law and how it destroyed his life and some of our childhood.
"Now all of the O' Neill children are doing great. Maura is married to Kerry Jones for 35 years and living in Pennsylvania. They have six kids and six grand children, including little 3 year old Shane! My brother Ted is married to wife number four, Elaine. They live in Pennsylvania. Ted has three children and four grandchildren. And my little sister Kathleen is married to Joe Livio. They have two children and two little twin girl grandchildren, LeighAnn and Geanna. They live in Point Pleasant, New Jersey where we all grew up.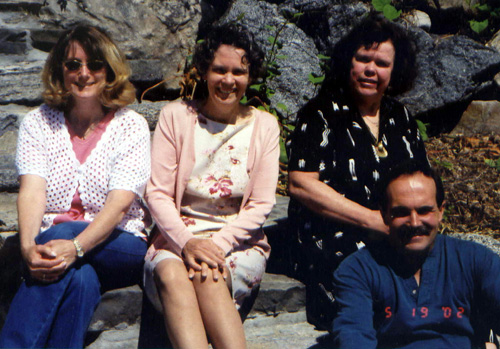 Kathleen, Maura, Sheila and Ted, 2002
"I live in the beautiful state of Maine and have a son, Anthony. I work in a little bookstore on Main Street in Ellsworth, Maine, and love it after working in a supermarket for thirty years. It's a nice change.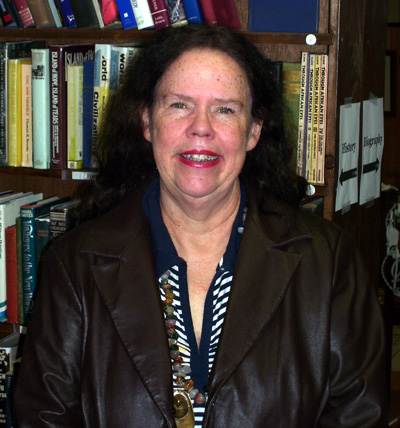 Sheila O'Neill, 2008
"Not one of us children or any of Shane's grandchildren ever got hooked on drugs or in trouble with the law. We are all just hard working Americans."
Sheila still sees her Aunt Barbara – Agnes O'Neill's daughter by her first marriage.
"My Aunt Barbara is in a nursing home in Pennsylvania, near Maura's house. Barbara in now 94 years old. Her memory is not very good and she can't hear a thing.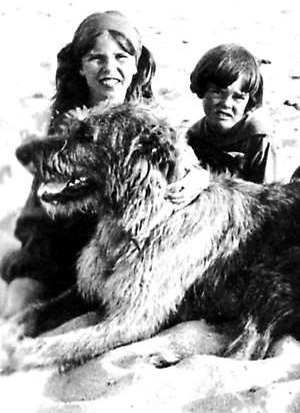 Barbara, Shane and Finn
"Barbara did tell me a few years ago, when I moved to Maine, about the summer the whole O'Neill family spent in a small cottage in Belgrade Lakes, Maine. Eugene, Aggie, Shane, Oona, Eugene Jr. and Barbara were all on vacation in Maine in 1926. They stayed in a small cottage near the lake. At first, they all had a wonderful time. Barbara was madly in love with Eugene Jr. – she was ten and he was about twelve. Shane was six years old – active, very noisy, running around the cottage with his huge dog Finn, an Irish wolfhound, and his one year old sister, Oona.
"All the kids and the huge dog where driving Eugene crazy. Eugene was trying to write his play Strange Interlude and couldn't concentrate. Finally, Eugene had a huge fight with Aggie. They sent both Barbara and Eugene Jr. home. Eugene had a tarpaper shack built way out in the middle of the woods, where he could write and the kids wouldn't bother him.
"That same summer in Belgrade Lakes, Eugene met Carlotta, and left Aggie for her later that year.
"The next winter, Shane was in Bermuda, with only his nanny and baby Oona. Aggie and Eugene were in New York. Shane's best friend, his beloved dog Finn, had been in a neighbor's yard getting into their chicken coops. The homeowner took out a gun and killed the poor dog. Seven year old Shane was all alone to deal with the death of his dog. I now know why Shane was so depressed all the time."