ASTROnline Editor's Note: In December 2011, Glenda E. Gill proposed to write an article for this special issue of ASTROnline on drama programs at historically Black universities.
As our team worked with Professor Gill, it emerged that she grew up as the child of faculty and staff members at Alabama A. and M. College, her mother, Olivia Dunlop Gill (Business Department), and father, Melvin Leo Gill, Sr. (Campus Postmaster). When it became clear how interwoven her own biography was with the subject of her article, we proposed that we turn her article into an interview about her life's journey.
Glenda E. Gill taught college, full-time, for 40 years at institutions including Alabama A & M College (now University), University of Texas at El Paso, Tuskegee Institute (now University), Winston Salem State University, Simpson College, and Michigan Technological University. She retired in 2006 as a tenured full professor from Michigan Tech, where was she was awarded Emerita status that same year.

An ASTR member since 1983, she has spoken at over fifty venues, including the World Congress of Theatre in Stockholm (1989) and Dublin (1992), the Eugene O'Neill International Conference in Tours, France (2003), Provincetown (2005) and San Ramon, California (2008). Her honors include giving the Ralph Ellison Lecture at Tuskegee University in 2007 and participation in four National Endowment for the Humanities (NEH) summer seminars at Iowa (1974), Yale (1985), UNC-Chapel Hill (1989) and Duke (1991) as well as serving as a 1990 Summer Fellow at the National Portrait Gallery of The Smithsonian Institution. She has held Rockefeller and Roothbert grants, in addition to research grants from Michigan Technological University.

Her articles and reviews have been published in Theatre Survey, Theatre Journal, Journal of American Drama and Theatre, The Drama Review and The Eugene O'Neill Review among others. She is the author of No Surrender! No Retreat! African-American Pioneer Performers of Twentienth-Century American Theater (St. Martin's Press, 2000) and White Grease Paint on Black Performers: A Study of the Federal Theatre, 1935-1939 (Peter Lang, 1988).


CM: Can you describe the experiences of growing up on the campus of Alabama A. and M. College in the 1940s and 1950s? What did it mean to you to be the child of a faculty member at a historically Black university during segregation?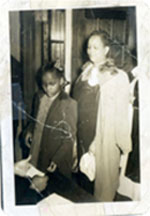 Glenda Gill and Olivia Dunlop Gill at a Roland Hayes concert, circa 1946
GG: We had faculty housing—substandard, but on campus. Rents ranged between $12.00 and $25.00 a month. Most housing in Huntsville was not available to blacks then. The main advantage of being the child of a faculty member to me was that I had an opportunity to see a vast array of artists and speakers come to campus: Langston Hughes, Marian Anderson, Adam Clayton Powell, Jr., the Shakespearean Players of Catholic University, the dePaur Infantry Chorus, and the Huntsville Symphony, among others. These were free through our Lyceum Series. I started as a young child seeing Roland Hayes, the great tenor. My mother, Olivia Dunlop Gill, the faculty member, accompanied me. Mr. Hayes had one of the sweetest tenor voices I have ever heard, the other being that of Luther Saxon who played Joe in the 1943 Black adaptation of Bizet's opera, Carmen Jones, which I also saw at Alabama A. and M.

CM: How did you become exposed to theatre through your experience of growing on a university campus? Can you describe your early experiences in theatre? (The plays that you did, the roles that you played, the philosophy of theatre that you were exposed to through these productions?)

GG: The philosophy was that drama was universal. We were brainwashed to believe that only White was right in those years, so all Black casts put on plays only by White authors. Of the Black playwrights who had written plays, few had their works published and available. I performed in eight plays with the Alabama A. and M. Thespians, first as an adolescent and then as a college student. My plum role was that of Mrs. Phelps, the Cannibal Mother who devours her sons, in our 1957 production of Sidney Howard's The Silver Cord, directed by Dr. Fannie Ella Frazier Hicklin, now 93. Charles L. Ray, Jr. co-starred as my younger son, Robert. As a teenager, I went to Broadway every summer, staying with my Aunt Eleanor and Uncle Scott. I worked for fifty cents an hour in the Alabama A. and M. Library as a college student, rode the bus to New York and saw plays.

CM: What was your awareness growing up of programs or activities in theatre and drama at other historically Black colleges and universities? What kinds of networks enabled the transmission of this knowledge? What kinds of connections have you made with these programs throughout your career?

GG: My friend, Joan Carter, went to Fisk. I learned about Lillian Voorhees, director of the Fisk Stage Crafters, through her. I remember the legendary Thomas Poag of Tennessee State University in Nashville bringing See How They Run to Alabama A. and M. when I was a child. I recall Howard University bringing Tennessee Williams's The Glass Menagerie. Maggie McCalep, a faculty wife, jumped from her seat in the audience when the character playing Laura fell. Maggie thought the fall was real; she rose to rescue her.

I also chaired the Department of English and Foreign Languages at Tuskegee Institute (now University) between 1982-1983 before the Little Theatre was destroyed and witnessed a flawless production of Charles Fuller's Zooman and the Sign, directed by Archie Simpson. I have published on Howard University's 1944 production of Eugene O'Neill's The Homecoming, the first in the trilogy of his Mourning Becomes Electra. I directed a Reader's Theatre production at Winston-Salem State University, Bare Floors and Purple Carpets: The Passage of the Black American in 1985.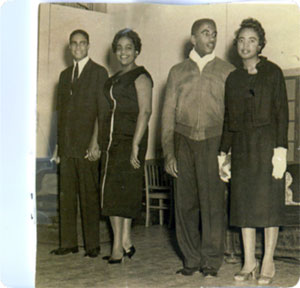 Sidney Howard's The Silver Cord at Alabama A & M Directed by Fannie Ella Frazier Hicklin; December 1957 (L-R: Charles L. Ray Jr. as Robert; Glenda Gill as Mrs. Phelps; Robert Jamison as David; Arleatha Goudy as Christina)
CM: What role did the other arts such as music or dance play in your early life and how did Alabama A. and M. foster an overall experience of the arts?

GG: Music on the HBCUS has historically been uplifting. I sang in the Alabama A. and M. College Choir under the direction of Mrs. Nell Lane Bradford. It was a transforming experience. We learned all kinds of music including the Negro spiritual. Dr. Elsie Hill Wallace, an extraordinarily gifted pianist on campus, taught me how to play the piano, starting when I was five years old. My mother bought a Wurlitzer piano and a metronome. I heard the great contralto Marian Anderson in 1954 when I was thirteen years old at the Alabama A. and M. Gymnasium. I can hear the rumbling of the piano now as she started to sing The Erlking. I see her sweeping across the stage, moving into the neck of the Ebony grand in her elegant brown evening gown with a train and motion to Franz Rupp to begin playing. She used art as a weapon.

I actually danced in high school—creative dance and loved to dance to the music of Don Q on Saturday night. But I also saw Talley Beatty in 1949 at the Lyceum Program in his famed Tropicana. Pearl Primus came, as well. Alexandra Danilova, the great ballerina, graced us with her presence. In later years, I saw Alvin Ailey.

CM: Your B.S. (Alabama A. and M.) and M.A. (University of Wisconsin-Madison) were both in English. How did theatre factor into your education in this discipline in the 1960s?

GG: I acted in plays at both schools. I witnessed good theatre, amateur and professional, at both places. At Wisconsin-Madison, I played the maid, Cleota, in Thurber and Nugent's The Male Animal (1962), directed by Lowell Manfull. Daniel Larner played the protagonist, Tommy Turner. Non-traditional casting was extremely rare, then, but six months later, Ronald Mitchell cast me as an elderly lady and in other bit speaking parts in Bertolt Brecht's epic, Galileo (1962). This was very unusual for the times.

CM: Who were your heroes and role models in academic theatre throughout your early training and career?

GG: Dr. J. Preston Cochran and Dr. Fannie Ella Frazier Hicklin. Cochran, a creative genius, was born in Gadsden, Alabama, in 1926 and is now deceased. He directed 20 extraordinary plays at Alabama A. and M. in five years (1949-1954). I was in four of those as an adolescent. Cochran held a B.A. from Morehouse College in Atlanta, an M.A. from Atlanta University and a PhD from Iowa (1958). At Iowa, he played the title role in O'Neill's The Emperor Jones in 1955 and the title role in Shakespeare's Othello in 1957.
Glenda Gill in Galileo, University
of Wisconsin-Madison, 1962

Caricature by Rick Nass
Dr. Fannie Ella Frazier Hicklin is an active 93 year-old living in Madison, Wisconsin. She taught English and directed the Alabama A. and M. Thespians from 1956-1961 and I was in three of those productions in college. Dr. Hicklin has an undergraduate degree from Talladega College, an M.A. from the University of Michigan and a PhD from the University of Wisconsin-Madison. She worked on the faculty and as an administrator for over twenty years at Wisconsin-Whitewater where a studio theatre is named in her honor. She wrote the definitive dissertation on the American Negro Playwright, 1920-1964.

CM: Your two books, "No Surrender! No Retreat! African-American Pioneer Performers of Twentienth-Century American Theater" (St. Martin's Press 2000) and "White Grease Paint on Black Performers: A Study of the Federal Theatre, 1935-1939" (Peter Lang 1988) have both focused on retrieving the histories of Black actors' careers. For you, how does studying individual performers and their networks serve the field of Black theatre and performance history more broadly? Is there any one individual you have written about over the years that you feel proves particularly exemplary of the power of biographical approach? If so, who are they?

GG: My work investigates the dynamics of race, gender and class and how they intersect with the African-American in the performing arts, especially in non-traditional roles. I think that my most powerful biographies are of Canada Lee and Paul Robeson, both of whom were destroyed by their activism. One cannot be both actor and activist in many instances.

I found a treasure trove of Lee's papers in 1980 when his widow and I unearthed five file boxes which had lain dormant since his 1952 death and our gathering them in June of 1980 from fellow actor Tommy Anderson's garage. A complete listing of those materials is now on the website at The Schomburg Research Center for Black Culture in Harlem.

CM: Your teaching career has spanned almost half a century at a number of different teaching institutions before your retirement from Michigan Tech as a tenured full professor in 2006. What were some major highlights of your experiences in these many years with students and colleagues? How did you navigate working with different institutions and their varied student populations?

GG: Although I never taught in a theatre department, at each university or college where I worked, I sought to connect my interest in theatre with the interests of the students. That was not hard at Simpson College in Indianola, Iowa, where a number of students majored in music. I did a class called "In Search of Self Through Performance of Drama" with a culminating readers' theatre production, Revelations.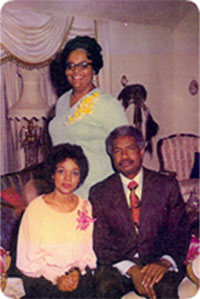 Glenda with Ossie Davis and Ruby Dee at a Delta Sigma Theta sponsored reception following their reading at the Plaza Theatre, El Paso, 1975
More challenging would be connecting my theatre interests with engineers. At Michigan Tech, I saw students do an outstanding film, "Othello, the Moor of Michigan Tech" and saw them execute a brilliant original drama where King Lear gives away the Kewadin Casino and other places in the Upper Peninsula to Goneril and Regan. The four students dressed in Yooper outfits - orange snowsuits. It was extraordinary. I did similar projects with military men and women at Fort Bliss Army Extension of the University of Texas-El Paso - I used Howard Gardner's theory that there are seven intelligences and I sought to nurture those in each student I taught.

CM: What role did professional development through organizations like ASTR or participation in the National Endowment for the Humanities Summer Seminars play in the journey of not only your research but teaching and relationship to the field as a whole?

GG: ASTR was of immeasurable value in my teaching and research. I was on a Shakespeare panel in 2001 at an ASTR meeting in San Diego; I taught Shakespeare at Tuskegee and Michigan Tech - I spoke in 2001 at ASTR only on James Earl Jones's portrayal of Othello which I saw on Broadway in 1982 - participation in ASTR seminars enriched my teaching because of what I learned from others and made me even more enthusiastic.

One of my NEH institutes was at Duke University in 1991 - "Interpreting the African-American Experience Through the Performing Arts, 1890-1990." That extraordinary experience exposed me to a great deal and created sustained connections - dancers Talley Beatty and Pearl Primus among many other dancers. Almost daily, I talk with Mical Whitaker whom I met there - about what works in the classroom and on stage. It is crucial to be connected to the larger world of theatre.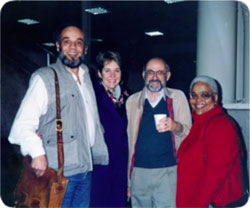 Glenda Gill with Freddie Rokem, Janelle Reinelt, and Tom Postlewait at the International Federation for Theatre Research at Trinity College, Dublin, 1992
CM: You have written a memoir entitled "Pebbles in My Shoe: The Journey of One African-American Woman of the South" that has been deposited with Nena Couch, Curator of the Lawrence and Lee Theatre Research Institute at The Ohio State University, to be opened only after your death. In the preface that you shared with me, you write about wanting to tell your story in order to share the 'emotional and financial toll on one person." Can you talk about what you mean by this and why your story is important in the context of the past, but the future of academia?
My memoir chronicles many glorious major moments but I, like many others, especially African-Americans, experienced the revolving door more than once. This is universal. Times have never been easy in academia. They are even worse now.1 When education becomes as important to most Americans as prisons and football, we will be a more civil, stable nation. But the dearth of money is not our only concern. We need to conquer the racial divide, class warfare, sexism and homophobia as well.
NOTES
1In 2009, only 27% of U.S. faculty held tenure-track positions, compared to 75% in 1960. Samantha Stainburn, "The Case of the Vanishing Full-Time Professor," The New York Times, December 30, 2009, accessed August 5, 2011, http://www.nytimes.com/2010/01/03/education/edlife/03strategy-t.html?ref=education.
*Reprinted with the generous permission of ASTROnline.