(CONTENTS)
Reaching Beyond the Horizon: Introducing a New Generation to
Eugene O'Neill at the 2009 O'Neill Studio Retreat
Beth Wynstra, Ph.D.
University of California, Santa Barbara
Until last year, seventeen-year old Daniel Morizono had never heard of Eugene O'Neill. Unfortunately, this fact does not differentiate Daniel from many students his age, yet there is indeed something striking about Daniel's only-recent knowledge of the importance and legacy of O'Neill: Daniel attends high school a mere mile away from O'Neill's Tao House in Danville, California. Despite the fact, then, that he is learning and living in the same city O'Neill called home while writing his masterpieces, Long Day's Journey into Night and A Moon for the Misbegotten, Daniel has never been formally introduced to America's most important playwright in any of his high school literature or drama classes nor took any school-sponsored field trips to Tao House, a National Park Site. Enter the Eugene O'Neill Foundation (EONF). It is the Foundation's innovative educational programming that has not only bridged a curricular gap for Daniel but also inspired him to write an editorial for his school's newspaper criticizing the "prominent exclusion" of O'Neill from the English classroom. As an aspiring playwright, Daniel has twice been a participant in the EONF's Student Days, a program now almost twenty years old in which promising high school actors, writers, artists, and photographers come to Tao House for a day to tour the grounds and learn about O'Neill, study with prominent practitioners in their field, and to create new work. Daniel also participated in the O'Neill Studio Retreat at Tao House in July, 2009, a six-day intensive summer workshop for selected high school actors and writers from the Student Days program designed to provide participants with a more thorough understanding of O'Neill and his place in the history of American Drama and also to allow for the creation and performance of ten-minute plays. As the coordinator and lead teacher of the O'Neill Studio Retreat, I feel fortunate that I had the opportunity to work with Daniel and five of his fellow writers as well as with the five high school actors. These young artists created new and exciting works for the stage on the very grounds where O'Neill did the same.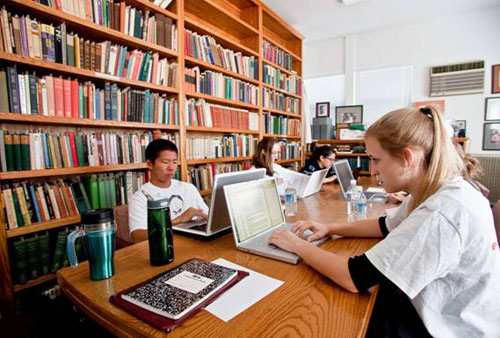 Daniel Morizono and fellow high school writers hard at work on their ten-minute plays in the Travis Bogard Reading Room at Tao House during the 2009 O'Neill Studio Retreat. (Photos by Tom Donahoe.)
In Daniel's home state of California, standardized tests and designated benchmarks dictate what is included or, in the case of O'Neill, omitted from a public high school American Literature or Theater curriculum. In other words, if O'Neill's works are not featured in course textbooks or in state-mandated syllabi, there is little hope that high-school students will study him. When I began teaching high school in San Diego, California in 2001, the English Department at my school was upgrading to a new textbook for the American Literature class. In both the old textbook and in the new textbook that replaced it, there was no mention of Eugene O'Neill. The old textbook included Tennessee Williams' The Glass Menagerie and the new textbook included Arthur Miller's The Crucible, yet in neither text were students provided with any kind of timeline of American Drama nor O'Neill's prominent role in such a trajectory. Since I was teaching at a private, college-preparatory school, I had more autonomy to supplement the American Literature curriculum with outside reading; I decided to end the course with Long Day's Journey into Night. In O'Neill's play my students found a work that probes and questions the American Dream, a subject we had spent the year studying in the stories, essays, and poems of Walt Whitman, Frederick Douglass, Mark Twain, Kate Chopin, F. Scott Fitzgerald, Eudora Welty, and Langston Hughes. In addition to complementing other works in the curriculum, Long Day's Journey into Night resonated with my sixteen and seventeen year old students; several of them had already dealt with substance abuse in their own families, and the strained familial dynamics of the Tyrones were familiar and realistic to them. Furthermore my students, now armed with a knowledge and understanding of O'Neill's life and the great innovations he brought to the American stage, were better equipped to study and see performances of works by Miller, Williams, Albee, and Shepard, or, in other words, the mainstays of high school and community theater productions. By reading and studying O'Neill, my students could connect the American theatrical dots, so to speak.
| | |
| --- | --- |
| | |
| Chad Deverman, instructor of acting, coaches students during a scene reading in the Tao House barn at the O'Neill Studio Retreat. | |
According to a National Center for Education statistic, eleven percent of all K-12 students in the United States are enrolled in private schools. The vast majority of high school students in this country, then, are learning within state regulated parameters. For students like Daniel Morizono such parameters do not allow for an enhanced American Literature or Theater curriculum that includes O'Neill. I believe our mission as O'Neill scholars, historians, and enthusiasts is clear: if we hope to introduce a new generation to the life and works of O'Neill, then we need to dedicate our energies to build and support programs such as those of the EONF. This is not to say that we should not attempt to make inroads with local and state school boards to discover how to get O'Neill's works on mandated book lists or in approved curriculum. Yet this may be a lengthy and complicated process, and in the meantime, we can work with theater companies, civic arts programs, summer writing camps, and after-school programs to ensure that O'Neill is the focus or, at least, included in arts education happening outside the traditional classroom. I see the formation of the Educational Outreach Committee of the Eugene O'Neill Society and the subsequent research that this committee has done on hosting a National Endowment for the Humanities Summer Institute on Eugene O'Neill for high school teachers as positive first steps in ensuring that we introduce O'Neill to a younger generation. We are fortunate to have several sites in the United States dedicated to the legacy of O'Neill: Tao House in California, Monte Cristo Cottage and The Eugene O'Neill Theater Center in Connecticut, and the Beinecke Library at Yale University. These sites could all be possible locations to offer rich educational experiences for high school students. Programs like the EONF's Student Days or the O'Neill Studio Retreat can enhance and supplement a high school student's Literature or Drama classroom experience and equip young students entering our universities or attending performances with an understanding of how O'Neill impacted American theater.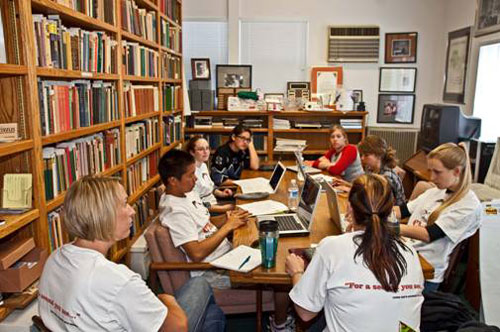 Erin Phillips, instructor of writing, leads a discussion on O'Neill's The Long Voyage Home with students in the Travis Bogard Reading Room at Tao House.
The O'Neill Studio Retreat was made possible by a generous grant from the Dean and Margaret Lesher Foundation and took place over six days in July, 2009. Students came to Tao House from 9:00-3:00 p.m. for five days, and the six original ten-minute plays were produced as staged readings for the public in the barn at Tao House on the sixth day of the Retreat. The performance, which was attended by over eighty people, included a very spirited talk-back discussion with student actors and writers. Erin Phillips, MFA candidate in Playwriting at the University of Texas at Austin, facilitated the writing workshops during the week of the Retreat, and Chad Deverman, Bay Area actor and graduate of the Tisch School of the Arts at NYU, taught the acting workshops. What follows is a day-by-day account of activities of the 2009 O'Neill Studio Retreat as well as Daniel Morizono's original ten-minute play, The Circumference. It is my hope that this lesson plan could serve as a model or a jumping-off point for teachers and arts education leaders interested in teaching O'Neill to high school students while at the same time encouraging such students to create new work for the stage.
| | |
| --- | --- |
| | |
| Student actors Blaise Hockel and Mitchell De Rubira rehearse a scene in the Tao House barn. | Playwright Sachiko Silva writes her ten-minute play outside at Tao House. |
Day One
Six student writers and five student actors arrived at Tao House at 9:00 a.m. and were greeted by the Retreat instructors. Upon arrival each student received an official O'Neill Studio Retreat t-shirt and notebook and enjoyed breakfast pastries, juice, and hot beverages in the Tao House barn. All breakfast food and lunches for the Retreat were provided by the EONF. At 9:30 a.m. all students gathered for a welcome and introductory remarks by Jack DeRieux, EONF Board member, as well as by a representative from the National Park Service.
Beth Wynstra facilitated a discussion in which students both shared their memories of visiting Tao House in the winter during the Student Days program and also recounted details they remembered about O'Neill's life, works, and his time at Tao House. Wynstra then read an entry from Carlotta Monterey's diary which described the activities at Tao House seventy years ago from that day. Wynstra provided a chronology of O'Neill's plays and lectured about O'Neill's impact on American theater. Students were assigned to read O'Neill's The Long Voyage Home before arriving to the Retreat, and Wynstra asked them to discuss what elements of the play may have been innovative or revolutionary when it was first produced. Students then were asked to name prominent themes and motifs in The Long Voyage Home (sea vs. land, fate, longing for home, and the mystique of death), and Wynstra connected students' findings to other O'Neill's works. Wynstra's lecture ended with a brief discussion of the autobiographical work O'Neill did at Tao House and the literary importance of Long Day's Journey into Night.
Students then broke into writing and acting groups. The writing students, under the instruction of Erin Phillips, discussed three crucial elements to crafting a play: time, turns, and character. Phillips pointed out that playwrights let their reader/audience know key information that occurred before the action of the play started and advised students to "get into their plays late," or in other words, begin their plays after significant action has occurred to or between their characters. Phillips explained that a "turn" in a play is used to achieve some kind of motion and that a turn could be an emotional escalation, a reveal or revelation, a change of subject, a new character, or a temperature shift. She asked students to identify turns in O'Neill's The Long Voyage Home. Students then did a brief writing exercise in which they had to write a three-line story that included a turn. In her discussion of characters in a play, Phillips encouraged students to make their own characters necessary to one another. She then led students through a character- creation exercise where students were asked to close their eyes and visualize a character. Phillips asked students a number of questions about the characters they were visualizing, and she then asked students to write down a description of this character. The description had to answer these questions: Of what is the character most afraid? What does this character want most before they die? What's a secret that this character has never told anyone? Students then repeated this exercise in order to create another character.
The acting students, under the instruction of Chad Deverman, began their work together by focusing on ensemble building. Deverman discussed the importance of collaboration in the theater and encouraged students to "push the boundaries" of their concepts of theater while at the Retreat. The students then devised a list of rules for the acting ensemble; they were:
1) There are no bad questions.
2) Always support one another and each other's choices.
3) Knowing that Rule Two exists, make a fool out of yourself as much as possible.
Deverman led students through series of improvisation games and exercises.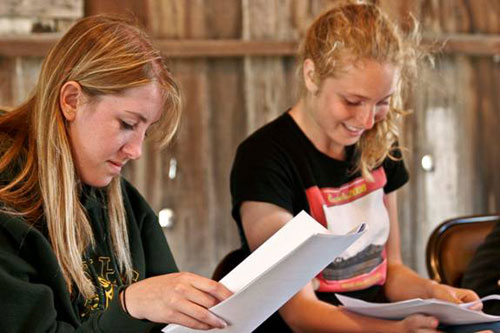 Acting students Emily Davies and Morgan Pavey rehearse a scene in the Tao House barn.
During the forty-five minute lunch break, writing and acting students were able to tour Tao House and talk to National Park interpretative rangers about O'Neill's time there. Students also enjoyed dipping their toes in the Tao House pool.
After lunch the students again separated into their respective groups. Erin Phillips explained to the writing students that they would be using the Bake-Off model to create their ten-minute plays; playwright Paula Vogel invented this model while she was teaching at Brown University. Students would be given a list of ingredients that would all need to be included in their respective plays. The list of ingredients was:
-Theme: "What I found beneath the dirt was..."
-A line of dialogue spoken in another language
-A moment of mistaken identity
-A slap
-An entrance from an unexpected source
-A lie
-A silence
-A loud man made noise
-Spontaneous song
-A kitchen utensil
-A declaration of love
In addition Phillips had students write down responses to these items:
-Something that lives underwater
-A historical figure
-A fact about the known universe
-A scientific law
Students then gave their response to the four items above to the student sitting next them, and Phillips instructed students that three out of the four items on the piece of paper must also be included in their plays. Phillips explained that students could use the characters they created in the morning session in their plays or they could create new characters. Students were given the last hour and a half of the first day of the Retreat to write and were told to bring a first draft of their ten-minute play with them the next day.
The acting students spent the first afternoon session of the Retreat working with scenes from plays by O'Neill, Neil Labute, and John Kolvenbach among others. Deverman discussed the actor's process of reading a script for the first time and instructed students to ask the following questions when receiving a fresh script:
1) What can you assume about the characters just by reading the scene?
2) What can you assume about the environment?
3) What are the character's objectives?
4) What's getting in their way? (Conflict)
5) How are they trying to get around that to achieve their objective? (Actions)
| | |
| --- | --- |
| | |
| The acting students begin scene study work with instructor Chad Deverman. | |
The acting students studied their scripts, and before rehearsing them for the group, they answered the questions above. Deverman coached the actors during their rehearsal of the scenes and stopped the actors frequently to ask them questions and hear their responses about the characters they were portraying.
The first day of the O'Neill Studio Retreat ended with all students coming together and Beth Wynstra facilitating an informal discussion of the day's activities. Students shared what they had worked on that day and what they had learned.
Day Two
The second day of the O'Neill Studio Retreat began again with breakfast and beverages for students and instructors in the Tao House barn. Chad Deverman then led the entire group of writers and actors in several theater games and acting warm-up exercises.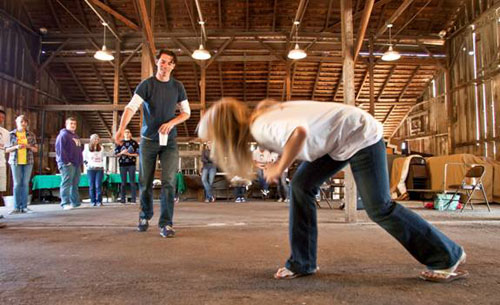 Chad Deverman leads warm-up games on the second day of the O'Neill Studio Retreat.
Students again broke into writing and acting groups. The writing students began their session by sharing their experiences of writing a first draft in a very limited amount of time. Most of the students actually enjoyed the pressure and were pleased with their drafts. Erin Phillips lectured about receiving feedback on new work and different ways playwrights can incorporate feedback in their rewriting process. She explained to the writing students that they will be giving feedback to their fellow writers' work in the pops and questions format. Pops indicate anything that jumped out of the script whether is was a line of dialogue, an image, a stage direction, or a character. Questions indicate anything that the listener/reader is still wondering about the play; Phillips alerted the writing students that playwrights do not need to answer questions posed to them. The writing students then each read their plays aloud and received pops and questions from their fellow writers.
The acting students continued to work on the scenes they were assigned by instructor Chad Deverman the day before. Deverman led students through improvisational exercises involving the characters in their scenes before allowing the acting students to spend the rest of the morning session to rehearse.
During the lunch break on the second day of the Retreat, Wynstra facilitated a talent show for all the students. Students brought musical instruments, props, and other tools to demonstrate their secret skills and talent.


Acting student Mitchell De Rubira practices a song on his accordion for the O'Neill Studio Retreat Talent Show while writing student Anca Ulea displays a hidden talent of drawing with her toes!
In the afternoon session of the second day of the Retreat the writing students reworked and edited their scripts based on feedback they received in the morning session. Phillips met individually with each writer for more detailed discussion about his or her play. Writing students were instructed to e-mail their scripts to Beth Wynstra by 5:00 p.m. that day so that Wynstra could print out scripts for the first read-thru with actors the next day.
The acting students used the afternoon session to perform the scenes they had been rehearsing. The entire group of students again met together at the end of the day to discuss their progress and activities.
After the students left Tao House, Deverman, Phillips, and Wynstra met to discuss the plays and to cast the plays for the first read-thru the next day.
Day Three
The acting and writing students arrived at Tao House, and many of them were too excited for the first read-thru of scripts to eat any breakfast! Erin Phillips led the entire group of students in a character-building writing exercise, similar to what the writing students had done on the first day of the Retreat. After the exercise, Phillips explained to the students how feedback would work during the reading of the plays (pops and questions). Chad Deverman then announced the cast lists for each of the plays and distributed scripts. After the reading of each script there was fifteen minutes of response by the acting and writing students as well as by the instructors. Dan Cawthon, EONF Board Member and Professor Emeritus from Saint Mary's College, was visiting the Retreat during the first read-thru and also offered his "pops" and "questions" to playwrights.
Students had a "working lunch" on the third day of the Retreat. Writing students either met individually with Erin Phillips or worked on rewrites based on what they heard in the first read-thru. Chad Deverman held formal auditions for parts in each of the six plays, and these auditions continued through the end of the day.
Writing students were instructed to have a completed draft of their plays emailed to Beth Wynstra by the next day at 5:00 p.m.
Day Four
After the students arrived and enjoyed breakfast in the Tao House barn, professional playwright Ellen K. Anderson gave a presentation about working as a theater artist and also discussed her first experiences reading Eugene O'Neill's work. She had each student chose a muse that could inspire him or her and then write a letter to this muse; in the letter students were instructed to describe their excitement about performing in/writing a new play and set some artistic goals for themselves. Anderson also gave each student a stamped envelope and instructed students to address the letter to themselves. A few weeks after the Retreat had ended, Anderson sent out the letters in order to remind students of how they felt during their time at Tao House and to encourage them to continue their artistic work. Anderson remained at Tao House for the rest of the day and gave the playwrights feedback as well as made herself available for private consultations.
Chad Deverman announced the formal cast lists for each play, and the remainder of Day Four of the O'Neill Studio Retreat was spent loosely blocking each of the staged readings. Deverman consulted with each of the playwrights both before and during the blocking process, and because of a shortage of actors, most of the playwrights were given small parts in the readings or served as the reader of stage directions.
Before leaving for the day, the writing students were instructed to send their scripts as well as a musical selection to Beth Wynstra via e-mail. The musical selection would serve as transition music between each of the readings at the performance.
After students left Tao House, Chad Deverman, Erin Phillips, and Beth Wynstra met to determine the order of the readings and discuss the technical requirements for the performance.
Day Five
The last day of the Retreat was spent running the performance of staged readings three times. Deverman walked students through the transitions between each of the readings and also orchestrated the moving of furniture on and off stage. The second and third run-thru of the performance included music. Before students left for the day, they were instructed to wear their O'Neill Studio Retreat shirts and jeans as their costumes for the next day's performance.
Despite a very short creation and rehearsal period, the students left Tao House on the fifth day of the Retreat energized and enthusiastic about the new work they would be performing the next day.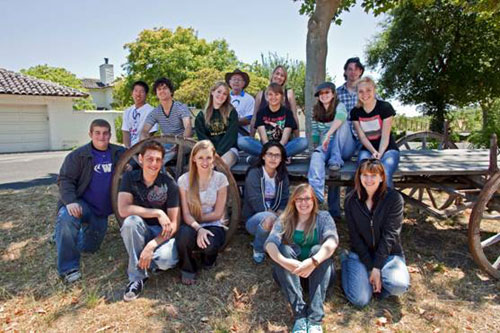 Instructors and student participants of the 2009 O'Neill Studio Retreat, Tao House, Danville, California.
The Circumference
By Daniel Morizono

Author's Note: One day in the near future the earth stopped spinning on its axis. Half the world was cast into darkness and half was cast into light. The seas froze and forests and jungles were turned into desert. It was impossible to make a mass evacuation to any planet nearby because years of war had expended the earth's resources. What resources remained were buried deep under the ice and sand. The only inhabitable place was a narrow strip of earth on the border of these opposites. There was a great migration to the Circumference, as it was called, but many didn't make it. Many couldn't withstand the relentless heat and cold. Nevertheless, some life did make it. Generation was bred from generation and over time, the humans learned to adapt to their environment…

Characters
NATHANIEL: Boy around twelve years of age. Has lived entire life as an inhabitant of the Circumference.
UNCLE: Mysterious man with an uncommon knowledge and understanding of the Old World.

Room confining and bare. The dull gray curtains look as they always do and the complex pipe system that runs through the walls hums softly as usual. The starlight visible from a single window the size of a checkerboard and a small fluorescent bulb are the only sources of light. A metal bed lies dying in one corner and a stack of worn books is heaped onto a grimy-looking night stand. The ever-present smell of artificially grown cabbage is no different than it had smelled the day before.
A solitary boy listens to the faint buzzing of the walls and breathes heavily onto the windowpane. The boy stares down at the floor, dismayed, then takes a toy rocket and slowly guides it across the dark sky…
NATHANIEL—(Whispering to himself) Had things always been like this…? In another two months the darkness will be replaced with light. But the light is as remorseless as the darkness. It is blinding, it never sleeps, and it blots out the starlight. And the heat, the heat makes your skin itch, and crack and burn. The never ending cycle will continue…
Boy sighs, picks up a book and sits back down on the bed, unsatisfied. Suddenly there is a loud rapping on the corrugated metal door.
NATHANIEL—Who could that be…?
Startled child moves to the door and cautiously opens it.
A tall man steps through the doorway. His face is framed by a pair of steel rimmed spectacles. Behind them, a pair of tired eyes burned like smoldering coals. And in the pockets of his flowing burlap coat is a rumpled package. The man runs one hand through his gray uncombed hair and holds it out to the boy.
UNCLE—Hello, Nathaniel.
NATHANIEL—(Surprised) Uncle, your next visit isn't supposed to be for another two weeks.
UNCLE—(Chuckling…) I guess it is a surprise visit then. But to tell you the truth, I've been getting weary of all the sunshine back West. I thought I'd drop by on your side for a short visit.
NATHANIEL—Please, sit down, sit down. It's a good thing you came today, Uncle. I've been having bad dreams lately and my thoughts have been increasingly hard to understand. For example, I've been thinking, why don't I get cereal for breakfast anymore?
UNCLE—Ah Nathaniel… well cereal, as well as a number of other things, is a rare commodity nowadays. It is safely kept in storage in case of famine. Why do you ask…?
NATHANIEL—Another thing, where did these books come from, and who made them?
UNCLE—I gave them to you for your ninth birthday, don't you remember?"
NATHANIEL—No, I don't, but where did you get them from?
UNCLE—So many questions, you've always been a curious boy…Well Nathaniel, there are things you just accept, without thinking why or how they work. Take a clock, for instance, you don't need to know what goes on inside it to know what time it is, do you? Or those books, you don't need to know where they came from to read and understand them.
NATHANIEL—Uncle, I need you to ask me something. Was the world always like this?
UNCLE hesitates before answering. Face tightens and grows stern.
UNCLE—Was the world always like what, Nathaniel?
NATHANIEL—Was there always a sea of darkness, a desert of light, and us humans in between?
UNCLE—You know well enough not to ask questions like that…
NATHANIEL—..But please, please tell me. You are the only person I know who can tell me. I've asked other people, but they just ignore or laugh at me.
UNCLE looks down in silent contemplation.
UNCLE—Yes… I believe you're ready to know the truth, Nathaniel. It's probably my fault that you question everything anyways. I've always encouraged you to be curious and to never stop wondering. A long time ago, before my great grandfather was born, the world rotated round and round and each day was equally split between day and night. People roamed the entire earth as they pleased without fear of getting lost in the darkness or being shriveled up in the heat.
NATHANIEL—So we didn't always live in these metal blocks?
UNCLE—Oh no, back then people lived in big houses and sailed ships on oceans and climbed mountains. Some of these houses had gardens where flowers were kept, but every house had a lot of grass called a lawn which was cared for by the person living inside the house…And people ate their dinners using six or seven utensils instead of one…
NATHANIEL—(Bewildered) What good is a lot of grass that you can't support humans on or use to process food?
UNCLE—Well, people looked at their lawns, and admired their lawns, and cut their lawns when they grew long.
NATHANIEL—That's wasteful uncle.
UNCLE—Wasteful indeed, but so very true.
NATHANIEL—What other things did people do back then?
UNCLE— (Gesturing in the air) Well…people flew kites on a big lawn called a park, and built huge domes where games were played for fun, and people went on hikes, and rode on the backs of animals, sang spontaneous songs, caught fish with poles, slept outside under the starry sky and….. and….
NATHANIEL—(Whispering) That does sound wonderful.
Child moves back to the window, opposite UNCLE and looks out at the darkness.
UNCLE—Yes… the world was much different years ago than it is today.
NATHANIEL—Tell me more, what were the people like back then?
UNCLE—The people were much like you or I. They had their hopes, their dreams, their hates, their loves…they may seem so distant an ancestor to us, but they in fact, share the same blood and tissue as we do.
NATHANIEL—Are you sad, Uncle?
UNCLE—Sad? I'm not sad anymore - no, it's not as if anything could be done to change this planet now. I just wish our world wasn't so small and barren and empty. Look, even after the world stopped, we still built this all for ourselves. We still had the ingenuity, the passion, the ambition in us. But we used it for all the wrong reasons, Nathaniel. Maybe, just maybe if we had been smarter, we could have escaped to another planet in our rockets, and maybe we wouldn't be condemned to this damned Circumference. And the lies the government tells us that things are getting better…Oh, why am I troubling you with my worries. Look, I brought you something.
UNCLE pulls metal object from coat and hands it to NATHANIEL.
UNCLE—It's called a kaleidoscope. Metal on the outside with glass prisms on the inside. I found it buried in the Earth, beneath the dirt, while I was exploring the Southern regions. Here, look into this hole here and turn it round and round.
NATHANIEL puts his eye to the Kaleidoscope…. At first he sees only faint shadows, but in an instant, he sees a shifting pattern of colors more vibrant and more dazzling than anything he had ever seen before. A blue, not the color of the nutrient bars he eats each day, but the color of a million candles burning their neon gas slower than time is burned away itself. A burgundy red, a tone the color and boldness of his very blood, and a gold more compelling and more mysterious than the stars themselves. These colors and dozens more whirl and mix and dance across the viewing hole… The boy sets it down, dizzy, his face turns sad again.
NATHANIEL—The colors….It's like seeing a different world altogether…(slight hesitation) Uncle, is it our fault the world is like this? It must be.
UNCLE—Oh…We'd like to think not. The world would have stopped rotating anyways. There was nothing that could have been done to stop that. But, we shouldn't have to live like this. We should have escaped a long time ago…
NATHANIEL—...Please, Uncle….take me with you. Let's leave. I'm so tired.
UNCLE—I love you Nathaniel. But I'm sorry, I just can't…I just can't. We will live our entire existences on this planet. There is no place to go… There is no place to escape to.
A single tear falls down the child's cheek.
NATHANIEL—(To himself, dreaming aloud) I just want gravity to let me go… drift among the planets and the stars…fall into the sun…
The room seems to spin with these words. The room and everything inside it rotates by perhaps an atom's width. Both the boy and his uncle feel the familiar tug of gravity; the gravity which ties them down to the planet and refuses to let them go.
NATHANIEL—I just want…want to forget.
The room stops spinning. The lights fade.
(CONTENTS)